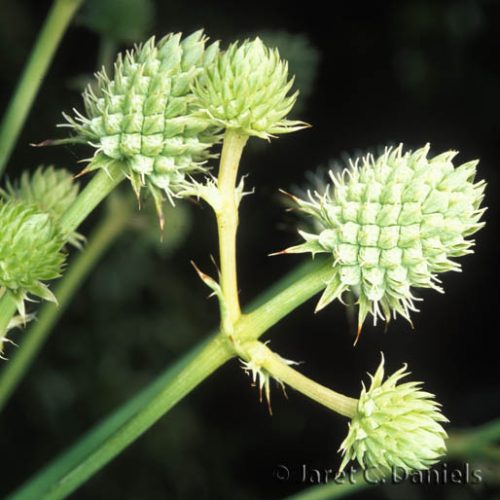 General description: Erect, clumping perennial with long narrow silvery-green basal leaves and dense, rounded heads of small white to greenish flowers borne on smooth, robust stems. Grow in full sun. Prefers moist locations but can tolerate more basic, well-drained soils. Unique addition to any perennial garden. Flowers attract butterflies and other pollinators.
Type: Perennial
Flower: Dense, rounded heads of small white to greenish flowers
Bloom time: Spring to fall
Soil type: Moist to wet, well-drained soils
Maximum height: 3 feet
Candidate for home gardens: Easy to grow. Distinctive.
Availability in nursery: Specialty and native plant nurseries
Frenquency in the wild: Occasional
Habitat: sandhills, pine flatwoods, hardwood forests, wetlands
County: Alachua, Baker, Bay, Bradford, Brevard, Broward, Calhoun, Charlotte, Citrus, Clay, Collier, Columbia, De Soto, Dixie, Duval, Escambia, Flagler, Franklin, Gadsden, Hardee, Hendry, Hernando, Highlands, Hillsborough, Holmes, Jackson, Jefferson, Lake, Lee, Leon, Levy, Liberty, Madison, Manatee, Martin, Nassau, Okaloosa, Okeechobee, Orange, Osceola, Palm Beach, Pasco, Pinellas, Polk, Putnam, Santa Rosa, Sarasota, Seminole, Sumter, Suwannee, Taylor, Union, Volusia, Wakulla, Walton, Washington
Full Sun
Moderate Watering
---
The Florida Wildflowers & Butterflies projects at the Florida Museum are sponsored in part by the State of Florida and the Florida Wildflower Foundation, Inc.