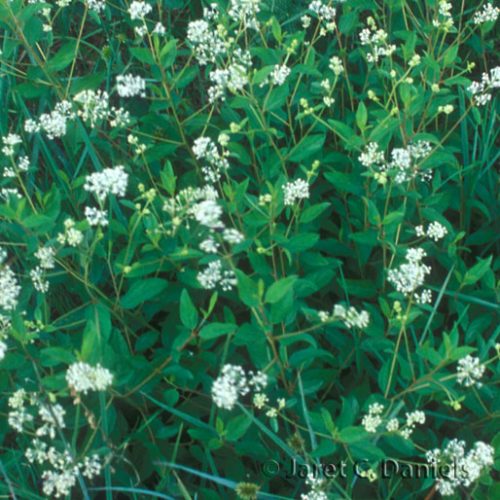 Host plant for: Mottled Duskywing (Erynnis martialis) and Gray Hairstreak (Strymon melinus)
General description: Small woody deciduous shrub with numerous globular terminal clusters of white flowers. Grow in full sun to partial shade. Tolerates dry conditions. Compact growth habit is ideal for small gardens. Flowers attract butterflies and other pollinators.
Type: Deciduous shrub
Flower: Terminal clusters of small white flowers.
Bloom time: Spring to summer
Soil type: Moist to dry, well-drained, sandy soils
Maximum height: 3 feet
Candidate for home gardens: Wonderful compact shrub. Both larval host and nectar source
Availability in nursery: Native plant nurseries
Frenquency in the wild: Uncommon
Habitat: sandhills, pine flatwoods, hardwood forests, ruderal
County: Alachua, Citrus, Columbia, Duval, Escambia, Gadsden, Gilchrist, Hernando, Highlands, Hillsborough, Holmes, Jackson, Jefferson, Lake, Leon, Liberty, Madison, Marion, Okaloosa, Orange, Pasco, Polk, Santa Rosa, Sumter, Suwannee, Volusia, Wakulla, Walton, Washington
Full Sun
Partial Sun
Drought Tolerant
---
The Florida Wildflowers & Butterflies projects at the Florida Museum are sponsored in part by the State of Florida and the Florida Wildflower Foundation, Inc.