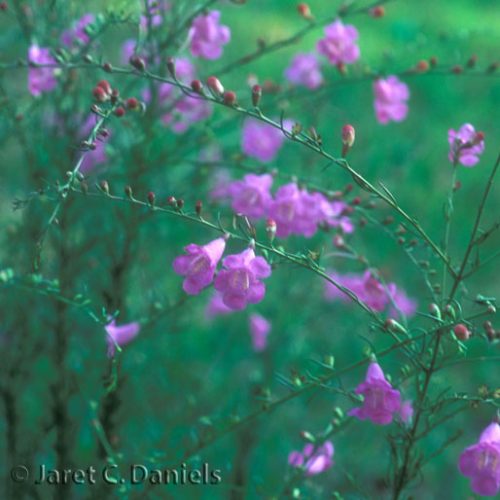 Family name: Orobanchaceae or Scrophulariaceae
Host plant for: Common Buckeye (Junonia coenia)
General description: Herbaceous annual with erect branched stems, fine leaves and showy pink tubular flowers from late summer through fall. Can be propagated from seed but is semi-parasitic on the roots of nearby plants and a challenge to grow in gardens.
Type: Annual
Flower: Pink, tubular flowers
Bloom time: Summer to fall
Soil type: Moist
Maximum height: 4 feet
Candidate for home gardens: Lack of availability limits use; difficult to grow
Availability in nursery: Not commercially available
Frenquency in the wild: Common
Habitat: coastal uplands, pine flatwoods, ruderal, wetlands
County: Alachua, Bay, Bradford, Brevard, Calhoun, Charlotte, Citrus, Clay, Collier, Columbia, Dixie, Duval, Escambia, Flagler, Franklin, Gilchrist, Glades, Gulf, Hamilton, Hernando, Highlands, Hillsborough, Holmes, Jackson, Jefferson, Lafayette, Lake, Lee, Leon, Levy, Liberty, Madison, Manatee, Marion, Miami-Miami-Dade, Monroe, Nassau, Okaloosa, Orange, Osceola, Palm Beach, Pasco, Pinellas, Polk, Putnam, Sarasota, Seminole, St. Johns, Sumter, Taylor, Union, Volusia, Wakulla, Walton, Washington
Full Sun
Partial Sun
Wetland
---
The Florida Wildflowers & Butterflies projects at the Florida Museum are sponsored in part by the State of Florida and the Florida Wildflower Foundation, Inc.