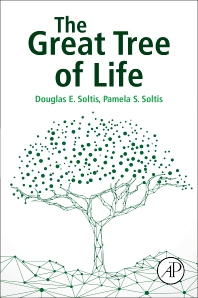 Soltis, D., and P. Soltis. 2018.
The Great Tree of Life
. Academic Press.
The Great Tree of Life is a concise, approachable treatment that surveys the concept of the Tree of Life, including chapters on its historical introduction and cultural connection. The Tree of Life is a metaphor used to describe the relationships between organisms, both living and extinct. It has been widely recognized that the relationship between the roughly 10 million species on earth drives the ecological system. This work covers options on how to build the tree, demonstrating its utility in drug discovery, curing disease, crop improvement, conservation biology and ecology, along with tactics on how to respond to the challenges of climate change.
This book is a key aid on the improvement of our understanding of the relationships between species, the increasing and essential awareness of biodiversity, and the power of employing modern biology to build the tree of life.
Provides a single reference describing the properties, history and utility of The Tree of Life
Introduces phylogenetics and its applications in an approachable manner
Written by experts on the Tree of Life
Includes an online companion site containing various original videos to enhance the reader's understanding and experience