The sounds of the forest are intoxicating.
And in Ethiopia during August 2010, they were mesmerizing. Droning, melodic Gregorian-like chants filled the space between the trees as a group of scientists searched high and low for insects to use in biodiversity studies.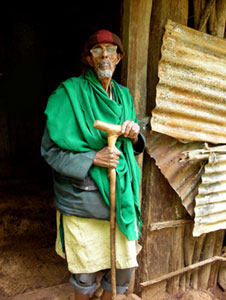 Forests surround Ethiopian Orthodox Tewahedo churches because generations of church members sharing a holistic view of nature have inhabited the land. The church congregations have honored their natural environment for thousands of years while the forests around them were destroyed by both human and natural causes.
"Basically, these are the last remaining near-virgin forests in northwestern Ethiopia in the Gondar area," said David Jarzen, Florida Museum of Natural History scientist. "These forests are sacred. They're revered by the locals as well as by the priests, the bishops and all the church members."
To learn about the church forests and reach out to its inhabitants, a group of 16 scientists and environmentalists funded their own flights to Ethiopia to participate in a two-week research project initiated by the Tree Research, Exploration & Education Foundation. The Sarasota-based foundation promotes conservation of the planet's botanical resources and ecosystems.
Lodging, transportation, meals and equipment for fieldwork were funded by a National Geographic Society grant and other sponsors including the Tree Foundation, the North Carolina Museum of Natural Sciences and Tommy Hilfiger Corp.
The project goals included surveying insect biodiversity, creating identification tools to be used by local children and funding the construction of a fence to protect the church forests from further external human activity.
"What's really important is that this is a classic example of how science and religion can work together," said Meg Lowman, executive director of the Tree Research, Exploration & Education Foundation. "We're on a mission for stewardship."
Ethiopia is a landlocked country in the Horn of Africa, the easternmost portion of the continent, and the researchers focused on the Gondar area in the northwest region. Like living museums, the remaining forests are islands of green in a land that has been developed for agriculture. But without a barrier to separate the land, cattle graze freely, which ultimately leads to destruction of the forests.
Lowman, also known as "Canopy Meg," had the idea to study the forests in Ethiopia when she met a native Ethiopian presenting research of the forests' tree species at an Association for Tropical Biology and Conservation conference in Mexico six years ago. Alemayehu Wassie Eshete's research showed a number of trees in the church forests were on the endangered species list, and Lowman, a plant ecologist-turned-conservation biologist, started working with Eshete to see what could be done.
She made her first trip to the Third World country two years ago. Using a generator, she gave a Power Point presentation about conservation to the bishops.
"The support of church was stronger than the government," Lowman said. "It's such a humbling reality check."
In 2010, the effects of her prior work were evident in the Zhara church forest, one of the 28 areas assessed for vegetation composition. During the two weeks in the Gondar area, group members worked on the Zhara and Debresena church forests.
"They've started building stone fences," Jarzen said. "So they are making some efforts, but they still don't know what exists in those forests and the significance of the biodiversity."
Jarzen and his wife, Susan, were the first to answer Lowman's call to colleagues around the world. While David Jarzen's research at the Museum typically focuses on his specializations in palynology and paleobotany, he was responsible for understanding the tree species of the church forests in Ethiopia.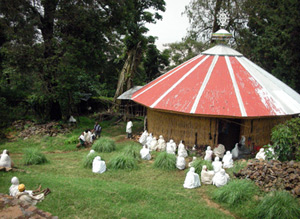 He spent a year before the trip preparing a notebook on the trees for Eshete, whose resources in Ethiopia are extremely limited.
On the trip, Jarzen presented his research to Eshete, and then identified tree species and helped collect plant and insect specimens.
"We are doing more than just collecting data for science," Jarzen said. "What counts is that these people, and their children, hopefully, understood why we were there, that we're trying to help them. We're trying to show them that there's a future, and that they've got to have a place to go to the bathroom."
Because the population is increasing while the forests are decreasing, the lack of a designated space to defecate poses a health hazard and potential risks of ecological imbalance.
The team was challenged with how to apply its collection work to conservation. Jarzen and Lowman believe the welfare of the forests lies in the hands of the residents — the church community.
"You better protect the forests to protect the pollinators, to protect the plants that you want to live with, to protect yourself," Jarzen said. "The same thing could happen here as on Easter Island, except it's a very large country – they destroyed every tree on that island, and the whole culture is gone."
Hoping to start change from within, the team focused on educational outreach to community members, especially children.
"We would shake trees, shake branches, collect specimens and try to teach these kids what we were collecting and how," Jarzen said. "These are the next stewards of our environment."
Historically, scientists have educated their peers, publishing research in books and science journals. But according to Lowman, some researchers now recognize educating the next generation can have a greater impact.
"If we can get to the kids, it's been pretty well proven you can actually reach out and change behavior in families, even change behavior in local government," Lowman said.
From a scientific viewpoint, Lowman said the trip was a success, and she plans to return in 2012 to study insects during the dry season. During the 2010 trip, scientists sampled during the wet season.
To collect specimens from all levels of the forest, some researchers ventured into the canopy, hoisting themselves with a climbing rope to reach the tree tops, Jarzen said. Lowman has the nickname "Canopy Meg" because she is recognized as a founder in the field of canopy biology.
"Some of the species we're finding are new to science, including small ferns and insects," Jarzen said. "They have to be described and that will take a year or two at least, so this project will be ongoing for some time."
The team's research included assessments of the nutrient status in the soil and canopy at each site, measurements of herbivory in 14 tree species and the collection of more than 5,000 insects.
"New species take time to establish as undescribed and just not obscure, but many of the collected specimens are sure to be new to science," said Phillip K. Wittman, the team member responsible for tallying the data.
In the meantime, there is plenty of work to be done, from building fences to establishing bathroom facilities.
"This is a country that really is in need of help and I think the residents need to know there are people who do care about them — not countries, not governments, but people," Jarzen said.
Some of the findings will provide a greater understanding of the insect biodiversity as well as the forests' ecosystems. For example, one species there, Prunus africanus, has been found to be valuable for the treatment of prostate enlargement, Jarzen said.
The natives showed an understanding for protecting living species, but another factor for long-term success in forests is the presence of dead and fallen wood. In Ethiopia, this wood is often harvested for fuel.
"There is a lot of insect diversity, some crucial for long-term forest health that need those old dead logs," said participant Phil Harpootlian.
While Jarzen values the scientific research, he said he was moved by the human interactions.
"Our presence there was certainly noted, he said. "They were there every day just staring at us, wondering why we were there, what we were doing."
Jarzen said few people spoke English, so communication was primitive, but often effective. He tried to communicate with residents as often as possible, and was able to connect with church members to help locate specific trees.
"I would point out an illustration of a tree in a book and a child or adult would either lead me to the tree or indicate that it was not in the forest," he said.
Jarzen felt like he had conveyed the message when he was working with a resident who touched a tree and asked, "So this is my tree?"
Jarzen responded, "You're damned right, it's your tree."
Despite traveling to many countries, Jarzen said he did not know the definition of poor until visiting Ethiopia.
"No matter where you go, no matter how much you've traveled, you've never seen it all," Jarzen said. "There's still more to see."