A Florida Museum of Natural History researcher recently received a 2013-2014 UF Excellence Award for his research on social networks and communities in pre-Columbian North America.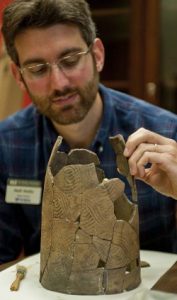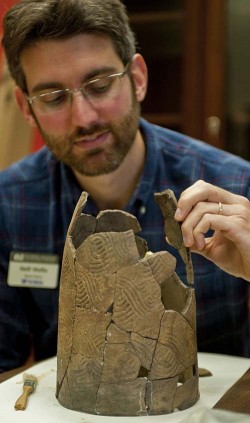 Neill Wallis, assistant curator in Florida archaeology, was one of 10 University of Florida assistant professors selected to receive the award. Recognizing excellence in research from junior faculty, the $5,000 award may be used to fund travel, equipment, books, graduate student assistants and other research-related expenses.
Wallis' research programs focus on the development and change of Native American social networks and communities between 3,000 and 500 years ago. Centered primarily on Florida and the southeastern United States, his research more broadly redefines understandings of political and social life in these societies.
"Dr. Wallis is an exceptional young faculty member whose scholarly productivity is outstanding," said Florida Museum Director Doug Jones, who nominated Wallis for the award.
Since 2011, in addition to senior authorship on six peer-reviewed articles and five book chapters on pre-Columbian societies, Wallis has written one book and co-edited another. A third book is nearing completion, co-authored for Cambridge University Press. He has also received two competitive National Science Foundation archaeology grants in the last three years and the 2011 C.B. Moore Award for Excellence in Southeastern Archaeology presented by the Southeastern Archaeological Conference.
"Dr. Wallis adds major strength to the museum's world-class program in pre-Columbian archaeology of the New World," Jones said.
---
More about Neill Wallis
Learn more about the Florida Archaeology at the Florida Museum.