A new National Science Foundation grant allows scientists to prepare vertebrate paleontology specimens at the Florida Museum of Natural History, which houses the nation's third-largest collection of cataloged vertebrate fossils.
The $455,000 three-year project includes preparing 2-million-year-old skeletons recovered from a limestone quarry near Newberry, Fla., a recently donated private collection of more than 40,000 Florida specimens and others recently collected during the expansion of the Panama Canal in Central America. Many specimens from these sites have already been the subject of published research, including ground sloths the size of bull elephants, armadillos the size of wolves, saber-toothed cats and the oldest known porcupine skeleton. The Florida Museum's collection is the most comprehensive for fossil vertebrates found in the eastern U.S. and circum-Caribbean Basin spanning the last 65 million years.
"Not only does this grant provide much needed support for curation of significant specimens but also for critical digitization of our collections," said vertebrate paleontology associate curator Jonathan Bloch. "Using high-resolution digital photography, three-dimensional laser-scanning and even video, we will make our collections available to everyone in the world with an Internet connection."
The grant will allow for rapid curation of specimens that otherwise would have taken many years to accomplish, said museum vertebrate paleontology collection manager Richard Hulbert. Researchers are also using a 3-D scanner that laser scans and digitizes fossils for analysis.
"The 3-D scanner allows researchers to understand comparisons of specimens in different ways," Bloch said.
The Haile 7G Collection, which Hulbert describes as "the most important find of its age in the last 40 years," was recovered from a limestone quarry near Newberry from 2005 to 2007. It includes fossils still stored in plaster "jackets" used to carefully remove bones from the earth, which are now beginning to deteriorate, Hulbert said.
"After three years of excavations involving hundreds of volunteers from all around Florida, we ended up with thousands of specimens," Hulbert said. "We brought in fossils and made plaster jackets faster than we could prepare them. This grant is going to help us in curating that collection. Many of these are incredibly valuable to science, and we know there are more great fossils out there."
Collector John Waldrop recently donated the Timberlane Research Organization Collection to the Florida Museum and proper cataloging of the specimens is dependent on communication with Waldrop to correctly interpret hand-written field notes and localities, Hulbert said. This collection was the result of 40 years of fieldwork by Waldrop and his students throughout Florida.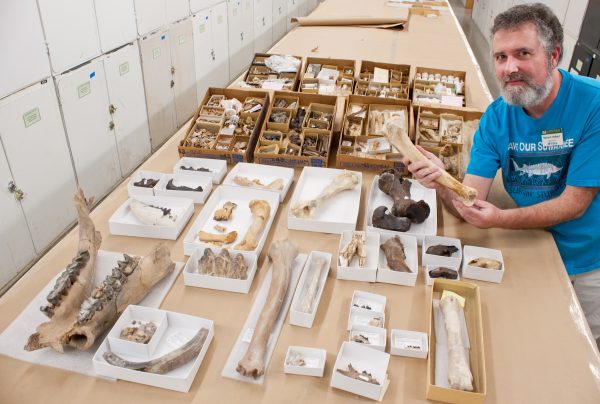 "The fact is, we really need Mr. Waldrop's help on occasion to understand where exactly different specimens were found and the circumstances around collecting them," Hulbert said. "And that's already proven to be the case – we have fossils from a site that potentially has the oldest land mammals in Florida and we've just been in contact with him for details about the geology. We're working with him on this project and the funding guarantees that we will get this done quickly."
Preparation of specimens from the Panama Canal Fossil Collection is integral for research as well as curation for an exhibit honoring the centennial of the Panama Canal opening, Bloch said.
Researchers intend to expand the Florida Museum's online catalog of specimens by imaging thousands of fossils after they are prepared and curated.
"We're working with NSF's initiative to digitize collections across the board," Bloch said. "Everything that we digitize will be accessible to the public through our database."
---
Learn more about the Vertebrate Paleontology Collection at the Florida Museum.