Florida Museum of Natural History invertebrate zoology researchers recently received a National Science Foundation grant to further digitize the department's collection, one of the nation's largest.
The three-year, $339,000 award funds digitization of "relinquished collections" outside researchers have given the museum for research and curation. Located on the University of Florida campus, the Florida Museum has one of the largest digitized collections of invertebrate specimens, second only to the Smithsonian Institution. Invertebrate animals include crustaceans, corals and mollusks that may be used to better understand environmental changes and shifting distributions of biodiversity on land and sea.
"We passed the 500,000th mark of catalogs databased into the online log last month," said principal investigator Gustav Paulay, the museum's curator of invertebrate zoology. "Digitization is great because it makes this phenomenal wealth of information we have in this collection available."
The project coincides with NSF's recent push to digitize all U.S. biological collections so information stored in museums may be accessed worldwide. Digitization of museum collections is valuable for both recreational and scientific purposes, Paulay said.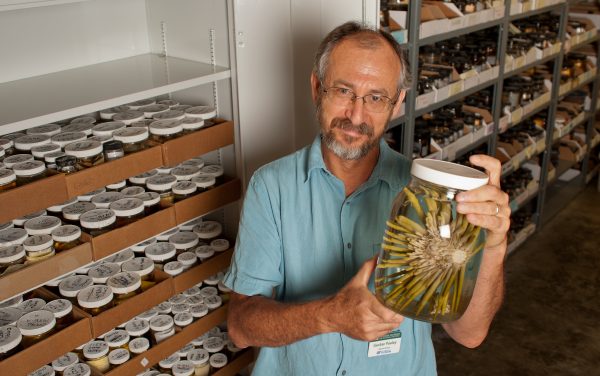 "When you go to certain websites and put in a species name to get a map with dots showing where a species is known from, well those are usually museum specimens, and it's the collection data that allows us to map it because we have the longitude and latitude of where they are found," Paulay said.
Invertebrate specimens are organized by lot, so each record includes all the animals recovered from that time and place. While the department now has a half million digitized lots, it actually comprises about 3 million to 4 million specimens, Paulay said. He hopes the open access enabled by digitization will attract students and researchers to utilize the large amount of information in the museum's collections.
"This gives you access to all this diversity at the click of the mouse," Paulay said. "All of this beforehand was only available if you would come and look though our drawers."
---
Learn more about Invertebrate Zoology at the Florida Museum.