A high school student working in the Florida Museum of Natural History McGuire Center for Lepidoptera and Biodiversity recently received a $2,000 Mu Alpha Theta grant to research moth wings.
Only about a dozen U.S. high school students receive the grant each summer from the national high school and two-year college mathematics honor society.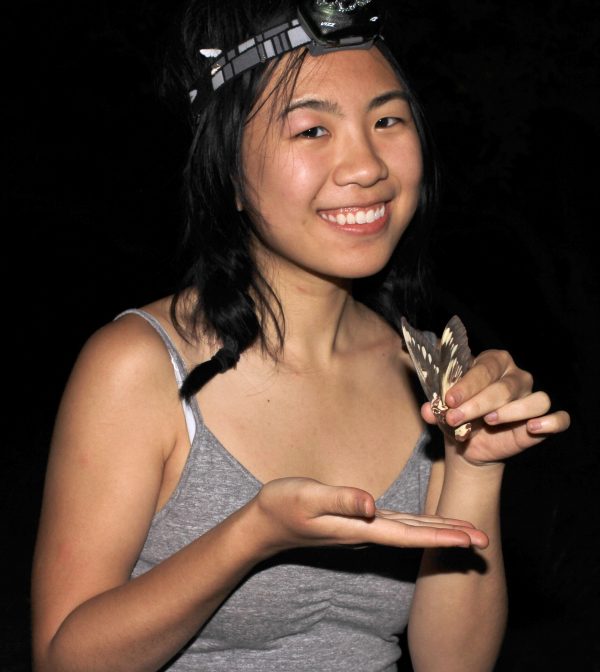 The grant will allow Buchholz High School senior Minjia Zhong to complete a paper she wrote and submit it for publication in a peer-reviewed scientific journal.
"A $2,000 research grant is an incredible accomplishment for someone who has yet to start college," said Florida Museum assistant curator of Lepidoptera Akito Kawahara, who is supervising Zhong's research.
Zhong uses her math skills to apply and understand geometric morphometrics, a field of statistics used to quantify complex shapes. Kawahara said Florida Museum researchers think diverse wing shapes evolved as a defense against nocturnal predators, such as bats.
Zhong said she developed an interest in moths as a collections assistant through the Florida Museum's summer Junior Volunteer Program, and studying wing shapes of the Saturniidae moth family satisfied her desire to combine math and biology. She and lab coordinator Geena Hill began the project in May 2013.
"The museum provides a very supportive environment for somebody like me who has little experience in the research world," Zhong said.
Zhong and Hill photographed hundreds of moths in the museum's collections to capture their vein patterns and characterize the moths by labeling, digitizing and creating a framework for analyzing their wing shapes. They discovered silk moth wings can be grouped into five main types.
She and Zhong will present their research at The Lepidopterists' Society in Park City, Utah, in July.
"She has been a huge asset in the Kawahara lab and will be greatly missed when she leaves," Hill said.
Zhong is assisting Kawahara lab researchers with Lepidoptera fieldwork in Arizona this month and plans to attend Stanford University in the fall to major in mathematical and computational sciences.
Kawahara said researchers plan to continue Zhong's work using the same methods she developed for other moths. He said Zhong has developed into a professional who interacts well with her peers and has learned to conduct research on her own.
"She is truly a star, and has proven it," he said.
---
Learn more about the McGuire Center for Lepidoptera & Biodiversity at the Florida Museum.
Learn more about the Kawahara Lab at the Florida Museum.