As reported in our June 2016 newsletter, invasive plant removal on the land parcels holding the Smith (burial) and Low (midden) Mounds commenced in May.
The clearing work was funded in large part by the Felburn Foundation, and we are most grateful for their support. Additional funds came from our operations fund, which is made up of donations and dues from our members. Thank you!
Past disturbances, including those from agriculture and Hurricane Charley, created conditions that led to a dominance by non-native plant species. Over the course of two weeks, crews delicately used heavy equipment, chain saws, and hand tools to reveal unique features and free native vegetation.
The photo was taken while facing west at the flank of the Smith Mound on the opposite side (to the east) of where visitors currently stand behind the fence on the Calusa Heritage Trail to view the mound. The arrow is pointing to a Pond-apple tree, a native with edible fruit, that was struggling to survive under the dense Brazilian pepper canopy.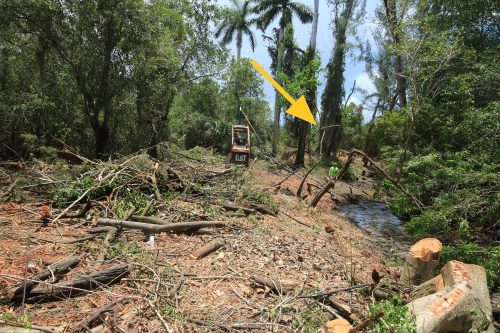 To the left of the Pond-apple stands an Australian pine identified here by its lighter colored bark. Australian pines are known for allelopathy: their fallen leaves exude chemicals that inhibit the growth of other species. Look carefully at the base of the Pond-apple and you will see a portion of the Calusa-dug waterway that once encircled the Smith Mound. As the work proceeded, more of the waterway was revealed. The large stump in the foreground of this photo (bottom right) is from a Java Plum. This exotic grows up to 50 feet tall and its canopy can be equally wide. It quickly overwhelms native trees on which Florida wildlife is dependent. Although much work had been accomplished when this photo was taken, the Smith Mound contour and terrain were still engulfed and hidden. However, the Pond-apple tree was capturing more sunlight and beginning to recover.
Wow, there it is! This photo shows the Smith Mound revealed, on the right, and the Calusa-dug waterway holding water. Because this photo was taken from a different perspective, the Pond-apple tree is hard to see. Finally, and, from a little more distant vista, this photo (below) shows native oak trees and cabbage palms that survived the exotics. The Smith Mound and waterway can be seen to the right. We look forward to members and visitors seeing this area; however, access is not yet possible.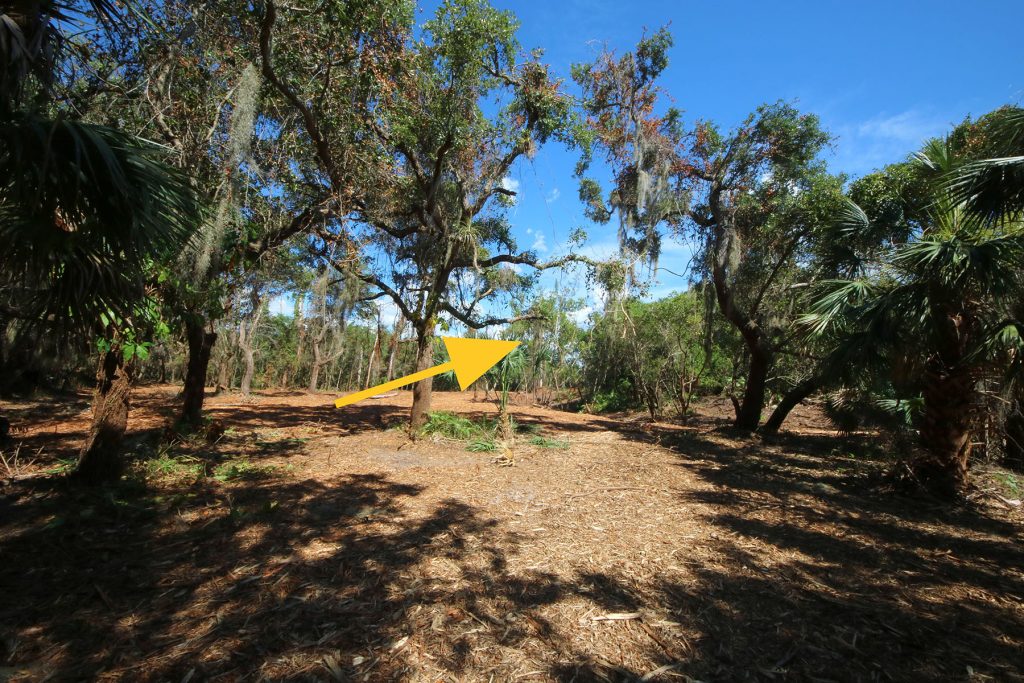 Fencing will start in late September. All material dug from every fence post hole will be screened for artifacts, and soil profiles will be examined in order to add to our information about the site and be certain we avoid particularly sensitive areas. There is already regrowth of some exotic vegetation and this will require on-going attention. New growth of native plants, including a lovely coontie (Zamia) that spouted and is growing rapidly near where this photo series was shot, are changing the landscape too. As late summer rains continue, soils will become saturated and water will pool in low spots. At that time we will determine the best places for trails and benches. The first public tours of the area will take place at Calusa Heritage Day, March 25, 2017, and access for self-guided visits will follow.
---
This article was taken from the Friends of the Randell Research Center Newsletter Vol 15, No. 3. September 2016.