As our readers know, five acres of land were added to the Randell Research Center in 2015 thanks to the generous support of Tim and Judith Sear and the Calusa Land Trust.
Grants from RRC members and the Felburn Foundation for invasive vegetation removal and from the Florida Humanities Council for public interpretation made it possible to open an extension of the Calusa Heritage Trail in March, 2017 (see RRC Newsletter, June 2015; June 2016; and September 2017).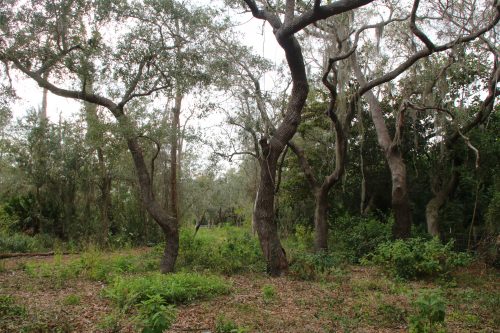 When we acquired the property, it was dominated by Brazilian pepper (Schinus terebinthifolia), earleaf acacia (Acacia auriculiformis), and other non-native invasive plants that had obscured the ground and blocked all visual access to the Smith Mound, its surrounding canal, and the Low Mound. Thanks to the initial clearing and to weekly maintenance work by our volunteers, not only have the invasive non-native plants been controlled, but native plants are emerging throughout the property at an astounding rate. Wildlife that depends on these native plants is also returning. If you have not visited the newly added property lately, please do so on your next visit to Pineland. You will be amazed.