In its geology and history, Punta Blanca Island is closely related to Cayo Costa. For example, an 1855 map presented its outline as a peninsula attached to the northeastern part of the barrier island. In 1868 a pass separating the two islands appeared on a navigational chart. Like Cayo Costa, Punta Blanca today is part of the Florida State Park System.
The island is 1.5 miles long and 600 feet wide at its north end. Its narrow beach faces east over Charlotte Harbor. Boaters find a protected anchorage among red mangroves on the west. Its south shore faces Useppa Island less than a mile away.
No archaeological sites have been recorded although its name in Spanish means "white point" and may derive from the Cuban Fishing period (1763-1835), according to archaeologist John Worth. Some historians say it was named after a fisherman named Blanco. According to Marci Townley Hallock, great-granddaughter of Philip and Mary Santini (listed on the 1860 census of Cayo Costa), the name "Blanco" appeared three times in her great-grandparents' diary and could refer to a place, a person, or a boat: "1870 April 4… left from Cayo Costa for Blanco…. 1871 March: Blanco came from Pea Creek … 1871 June: Blanco went by."
From 1861 to 1865, the island faced on its northern end a Union blockade of Boca Grande Pass and to the south, a Union stronghold on Useppa. After 1865, a second wave of Cuban commercial fishermen established ranchos, using sloop-rigged boats, to net and salt mullet.
The end of the 1800s brought a new technology that changed the fishing industry forever: ice factories. At the mouth of the Peace River in the new town of Punta Gorda, two ice factories produced 40 tons of ice per day. In 1896, 3.6 million pounds of fish from Charlotte Harbor were brought to the Punta Gorda docks, iced, and loaded on trains.
In 1897, the Punta Gorda Fish Company (PGFC) was founded, and along with its competitors such as the Chadwick Fish Company of 1901 and the West Coast Fish Company, constructed ice storage houses on pilings with associated fish houses (living quarters) for fishermen and their families through-out Charlotte Harbor, Pine Island Sound, and Estero Bay. Fisherfolk could stay rent-free as long as they brought their catch to the ice house owned by the same company that built the fish houses.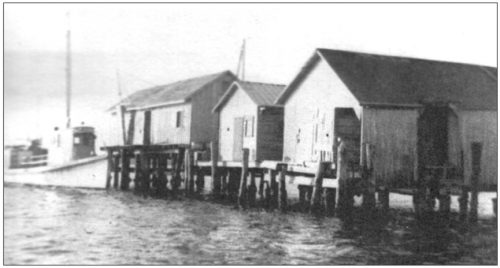 The ice house at Point Blanco was constructed by the PGFC "before 1930"according to the National Register of Historic Places. A photo courtesy of Nellie Spearing Coleman shows a 1928version consisting of three roofed structures including bunk houses on pilings and a "run boat." Her oral history and that of other islanders from the early 1900s appear in Fisherfolk of Charlotte Harbor by Robert Edic.
Throughout the first half of the twentieth century, fish company "run boats" serviced the ice houses. From the journal of Harry "Pete" Goulding, a director of the PGFC: "Run boats could carry thousands of pounds of ice or fish. They left Punta Gorda at 7 am on Monday, Wednesday, and Friday; stayed overnight at the farthest ice station; and returned to Punta Gorda by 1 pm on Tuesday, Thursday, and Saturday. The men came home Saturday afternoon and drew their earnings at the fish house for which they worked."
Barron G. Collier, owner of the nearby island Useppa with its 1918 grand hotel, "The Tarpon Inn," purchased Punta Blanca Island. On the southern part of Punta Blanca Island, Collier built cottages for his workers, a boat repair facility, a general store, rooms, and a community dock. The Ice House at Point Blanco co-existed with Collier's structures. In 1930 his workers dredged a channel for his 100-foot yacht Baroness around the south end leading into a cove. In 1928, courtesy of Collier, a new Punta Blanca Schoolhouse replaced the old one on Cayo Costa. PGFC run boats transported children from other islands to school on Punta Blanca, along with fish, ice, mail, and supplies. The school operated until 1949.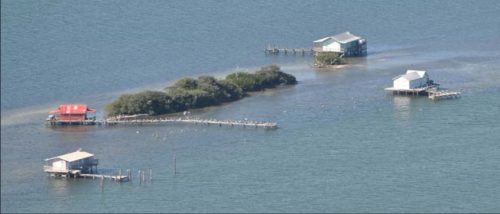 A destructive hurricane hit Pine Island Sound in September 1926 with waves of eleven to twelve feet over Sanibel and Captiva. On Punta Blanca, Dorothy Hall (Goodwin), the daughter of run-boat captain Francis Hall, lived in a cottage with her parents and three siblings. Her father, as usual, had taken the run boat to Punta Gorda when the hurricane struck. Her mother huddled the children together as the cottage rose off its foundation with each wave. Back at Punta Gorda, her father was told they were all dead. When he finally made it back to Punta Blanca he expected to collect the bodies—and they were all alive! (She told me this on April 11,2000.) According to data on hurricanes compiled by Karen J. Walker in The Archaeology of Pineland, Pine Island Sound was intersected by serious hurricanes at least nine times between1910 and 2004. Lesser tropical disturbances occurred 88 times between1900 and 1955, according to Edic.
At North Captiva Island, "The Ice House at Safety Harbor" was constructed in 1924 with at least two associated fish houses south of Captiva Pass. Kristie Anders, Education Director of the Sanibel-Captiva Foundation, frequently stayed there as a guest of the Stevens family of Punta Gorda.
Anders was there when the State of Florida designated all of the fish houses "squatters," and again in the 1980s when the Department of Natural Resources began to burn them, calling them navigation hazards and a threat to sea grasses. Walter Stevens, then-owner of the Ice House at Safety Harbor, learned of the National Register of Historic Places. He decided his ice house should qualify as "an example of early 20th century commercial fishing" and submitted an application.
The owners of the nearby "Ice House and Fish Houses at Captiva Rocks" applied as a group. Some only had a weathered piece of paper from the PGFC as evidence of ownership but this was acceptable proof of purchase. The fish houses were inspected, approved, and will remain on the register provided they appear the same on the outside and can be reconstructed like the originals.
Anders recalled other ice houses in Pine Island Sound, noting one at St. James City at White Rock Shoals, others east of Boca Grande (Island Bay Area),and at least four fish houses in Tarpon Bay on Sanibel Island. Ralph Woodring, son of Esperanza Woodring (a grand-daughter of the Padilla family of Cayo Costa) remembered a fish house as faraway as Punta Rassa.
Anders continued, "…And a guy named Peg Leg Dugan owned a fish house on pilings in Tarpon Bay on Sanibel. After a hurricane in the 1940s, his wife found his artificial leg washed up on shore, thinking he was dead, but some people found him alive lying on the shore, having spent the night on the roof of his house which had blown off. They gave him a bigwig of the hard stuff and he came alive."
The PGFC run boats stopped running around 1959. The company was officially "dissolved" in 1977, the same year that the Florida State Park System acquired ninety acres on the south end of Punta Blanca from Robert K. Hughes of New Hampshire. In 1985 the Federal Government transferred to the State of Florida forty-eight acres on the north end of Punta Blanca Island.
The Ice House at Point Blanco sold in 1980 to private owners. It burned on July 1, 1995, just after a state constitutional amendment went into effect banning the use of entanglement nets. Today only the tops of the pilings can be seen at the southeastern end of Punta Blanca, slightly charred, and often crowned by pelicans and cormorants.
---
This article was taken from the Friends of the Randell Research Center Newsletter Vol 13, No. 1. March 2014.