The February 2017 release of my book, A Tour of the Islands of Pine Island Sound Florida, Their Geology, Archaeology, and History, edited by William H. Marquardt, brought members and newcomers alike to the classroom at the Calusa Heritage Trail for a series of "Author Talks."
The room filled to capacity, and some were put on a waiting list. More talks were scheduled to accommodate the interest. I worked on the book for more than three years, and every author wants her book appreciated, but the response was more than any of us had anticipated.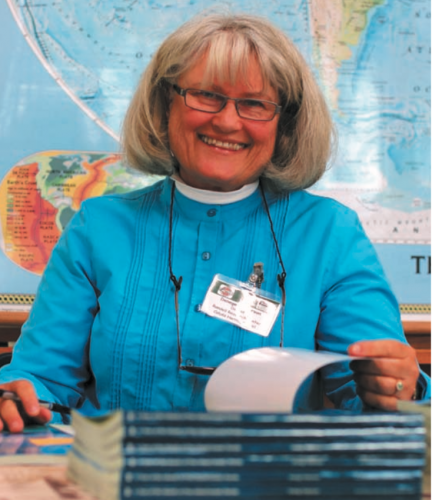 What made this book so timely? I suspect that much of the interest is because it includes information not previously available to the public. The book covers 24 islands, including 21 with archaeological sites. Each island has its own story—its location, geology, archaeology, and history are presented in individual chapters. I was amazed to learn how each island was treated differently by indigenous people during different eras—as villages, food-collection sites, tool-making workshops, and burial sites. Some islands were occupied for thousands of years, abandoned for a few hundred years, and then occupied again. I was also amazed by the geology. I learned how adaptable and strong the indigenous people had to be, as sea level, climate, and island forms changed over time.
The book is 160 pages in full color, size 8.5" x 11" with a splendid aerial photograph of Cayo Costa Island on the cover. It is a paperback with a sewn binding so it is strong enough to be taken on a boat. It is printed on ecologically friendly paper so it doesn't ruin the ecosystem it talks about. It has 100 photographs, 54 of which are high-resolution aerial views of islands taken while suspended from the open door of a helicopter by professional photographer Ron Mayhew of Ro MayhewPhotography.com. I drew 6 color-coded maps of the islands so that readers could distinguish islands they-could-visit from islands that are not open to the public. There are 17 maps in all and 14 illustrations, a seven-page bibliography, and an index.
The audience listened intently to my description of how I approached the subject of each island while looking at its location, geology, archaeology, and history. As a retired family therapist, I look at complicated subjects in a way that helps me see the systems that surround a group of individuals. With this view applied to the islands of Pine Island Sound, I can begin to see each island's role in contributing to, and receiving from, the larger ecosystem.
Chapter 1 describes the greater Charlotte Harbor region's eco-system of which Pine Island Sound is a part. I discovered the most astonishing and fun facts about how these islands do their job of nurturing, feeding, and creating a plume of life on an unimaginable scale.There are layers of understanding here, but by looking at the ecosystem it becomes obvious how indigenous people thrived for thousands of years and why they were wealthy without having any money.
The Calusa story as they lived at Pineland is provided in narrative form differently from the formal tour. It is beautifully illustrated with the original color artwork of Merald Clark as depicted on the signs along the Calusa Heritage Trail. This is in Chapter 2.
The book is for sale at the RRC gift shop for $29.95, and can be ordered by mail using the bookstore PDF form. One hundred percent of the proceeds from the book will go to the endowment fund of the Randell Research Center to help ensure its long term success.