Visitors to the Calusa Heritage Trail at the Randell Research Center often ask how Calusa people used plants, and every year there is more interest in landscaping with plants native to South Florida.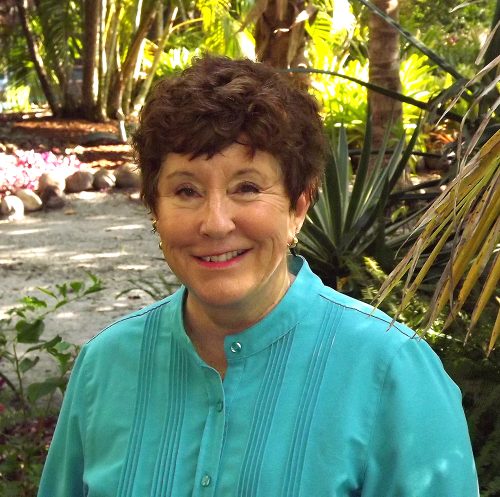 The native-plant garden that Martha (Marty) Kendall first planted along the path leading from the parking lot to the RRC classroom is extraordinarily popular (not to mention beautiful). Many people pause to admire the native plants and read their common and scientific names on the little signs we placed next to them. Thanks to the continuing volunteer work of Valerie Fors, the garden has thrived, and in November Brenda Anderson and Gayle Sheets enhanced it further with new plants and mulch.
Marty Kendall is a retired clinical psychologist who volunteers at the Calusa Heritage Trail at Pineland as a docent. Her interest in the Calusa and their use of plants led her to become a Master Gardener and Florida Master Naturalist. She resides on Pine Island. When she first suggested that a non-technical book on Calusa plant use was needed, I was easily convinced. I agreed to publish it on two conditions: that it be based on sound scientific information and that it be focused on Pineland. Not only did Marty compile such a book, but she illustrated it with charming original watercolor paintings of the various plants. The result is The Plant World of the Calusa: A View from Pineland, a fun and interesting book that I hope will answer some of the most frequently asked questions about Calusa plant use.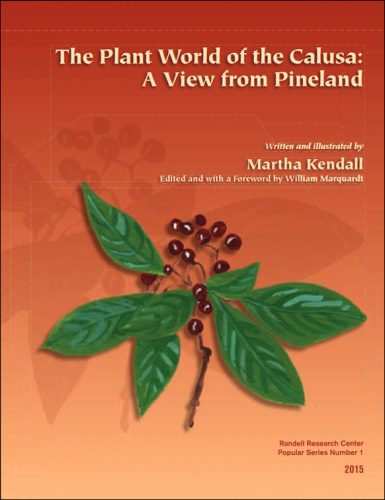 When our team of archaeologists, students, and citizen volunteers began research in southwest Florida back in 1983, almost nothing was known of plant use by ancient native South Floridians – the Calusa and their predecessors. Thanks to hard-won knowledge generated by paleoethnobotanists Lee Newsom and Margaret Scarry, we now know that the Calusa managed and manipulated certain plants, and we have a far better understanding of how they used dozens of native plants for food, tools, fuel, and medicine.
As our own culture becomes more mechanized, it is easy to become isolated from our environmental surroundings. In doing so, we can forget the vast knowledge of useful plants that has been passed on by elders for millennia. I hope that this book will stimulate its readers to want to know more about these practices and that they will appreciate the contribution that plants have made to our well-being since the time of the first humans.
Marty's book is the first volume in a new "Popular Series" to be offered by the RRC.
---
This article was taken from the Friends of the Randell Research Center Newsletter Vol 13, No. 4. June 2014.