About 800 people attended the sixth annual Calusa Heritage Day on March 12, 2011.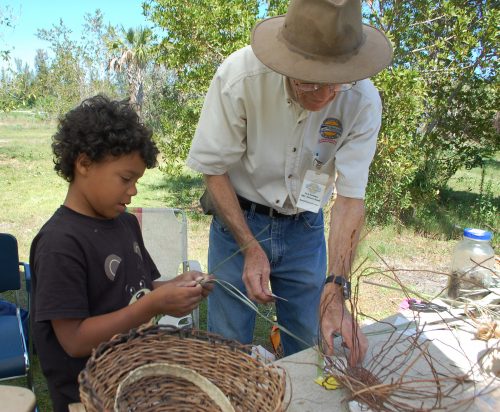 On a clear, crisp, spring-like day, our visitors enjoyed archaeological exhibits provided by the Florida Museum of Natural History as well as talks by John Beriault, Robin Brown, Bill Marquardt, and special guest speaker Lee Newsom, who was visiting from Pennsylvania State University.
Vendors of native plants, arts and crafts, and food were popular with the crowd, as were information tables provided by local archaeological, historical, and conservation organizations. "Calusa Tastings" was again offered, with free samples of foods eaten by the Calusa Indians, such as mullet, clams, and papaya.
Many children enjoyed hands-on activities, and both kids and adults tried their hand at throwing the atlatl, an activity organized by the Florida Public Archaeology Network.
---
This article was taken from the Friends of the Randell Research Center Newsletter Vol 10, No. 2. June 2011.