Over 400 people visited the Calusa Heritage Trail at the Randell Research Center on February 21 and were treated to fabulous weather and a diverse offering of displays and activities.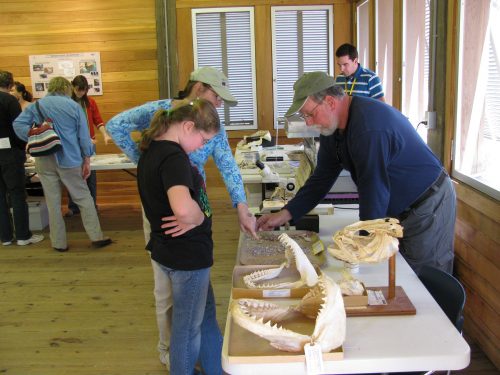 The classroom had exhibits on archaeology, archaeobotany, and zooarchaeology by Donna Ruhl, Irv Quitmyer, Melissa Ayvaz, Krista Church, Gypsy Price, Ryan Van Dyke, and Austin Bell. In the Authors and Storytellers tent, presentations were given by Ed Winn, Gene Toncray, Tom Joseph, Roothee Gabay, D.L. Havlin, Robin Brown, Holly Moulder, and John and Mary Lou Missal. In the Art and Technology area, there were demonstrations by Merald Clark and Cyndi Moncrief, Felix Macaguani Rodriguez, Dick Workman, John Beriault, Robin Brown, Janelle Lowry, and David Lainko. Elizabeth Neily, Marty Haythorn, and Linda Davis exhibited their art works, and John McKinney made palm-leaf baskets and hats.
Karen Walker, Margi Nanney, and Janelle Havlin served "Calusa Tastings"— samplings of Calusa cuisine, such as fish, clams, peppers, and papaya. Mel Meo, Fred Lodsin , and Phil Schultz offered fresh-cooked food that was much appreciated by all. Guided tours were conducted by RRC docents Denege Patterson, Jim Cherfoli, and Mary Banks.
There were information tables hosted by many local environmental and eco-tourism organizations, a historical exhibit on the Ruby Gill House and Pineland Post Office by Gladys Schneider and Pineland Postmaster Gina Poppell, an information table manned by Steve Tutko, special activities for children organized by Diane Maher, and a demonstration of how archaeologists sift for artifacts staffed by David and Pat Townsend An overflow crowd of more than 60 heard featured speaker Donna Ruhl discuss Florida's ancient canoes.
On March 1, with expert guidance from Robin Brown and John Beriault, we fired the pottery that had been made on Calusa Heritage Day. Special thanks to Michael Wylde, who organized this year's successful events. Michael was ably assisted by Mark Chargois, Linda Heffner, and Nick Paeno. The Anthropology Club from Florida Gulf Coast University helped immensely with a variety of tasks.
---
This article was taken from the Friends of the Randell Research Center Newsletter Vol 8, No. 1. March 2009.