"Deep within my heart lies a melody — a song of old San Antón. Where in dreams I live with a memory, beneath the stars all alone."
So begins one of the best known songs of the American West, written and first played by Bob Wills and His Texas Playboys in 1938. A romantic tale of lost love, it has been recorded by many artists and is still a featured tune of Western swing bands today.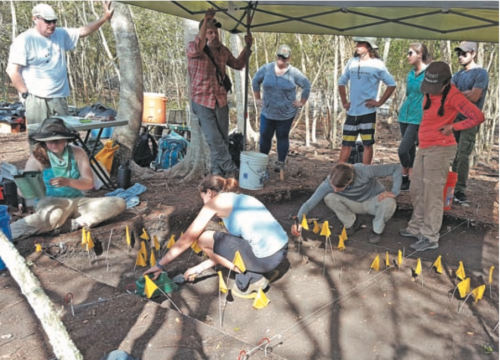 This song refers to San Antonio, Texas, of course, but few Floridians know that their state had its own San Antón, a fortified mission and garrison built 450 years ago in the Calusa capital town located on today's Mound Key.The full name was Fort San Antón de Carlos, because the Spaniards referred to the capital (and its king) as "Carlos," not Calos or Caalus as it was more properly pronounced.
Why "San Antón?" In the Catholic religion, Saint Anthony (San Antón in Spanish) is the patron saint of lost things.The initial voyage of Pedro Menéndez de Avilés to Southwest Florida in 1566 was motivated in part by his desire to find Spanish shipwreck survivors rumored to be captives of King Caalus. According to written accounts, Menéndez "had many masses said to Saint Anthony, so that he should intercede with Our Lord so that they might find the port where those Christians were, and the Christians themselves" (trans. by J. Worth). When Menéndez located the town of Calos and found some of the captives, he named the settlement in the saint's honor.The name was also extended to the sister of King Caalus, who was named "doña Antonia."
As reported in the March 2015 Friends of the RRC Newsletter, we had previously located both the king's house (on Mound 1) and the much larger area of the Spanish fort and Jesuit mission (on Mound 2) using a combination of remote sensing, coring, and archaeological excavations. We returned to Mound Key May 8 through June 1, 2017 to explore what appeared from ground- penetrating radar (GPR) to be one or more linear structures.We thought these might be walls of the fortified mission, first built in the fall of 1566 and garrisoned with some 35 men early in 1567. Our suspicions were confirmed.
We opened a 3-x-3-meter excavation on the highest flat elevation and another 2-x-2-meter square downslope, where GPR had indicated structures. No more than a foot beneath the surface, stains of posts were clearly visible in both excavations. In many cases, these dark soil stains were surrounded by a crude tabby (a concrete made by burning oyster shells to create lime, then mixing this with water, sand, ash, and broken shells). Tabby is known from other early Spanish structures in the Carolinas and Florida, and it was later adopted by the English. The tabby walls at Mound Key are among the earliest known in the New World.We found only a few artifacts, principally Spanish ceramic sherds and beads, but that is not surprising because historic documents indicate that items of value were removed when the fort was abandoned in 1569.
In spite of its brief occupation, San Antón de Carlos witnessed the tragic clash of two cultures that neither side could win. The Calusa refused to be converted and conquered, and the Spaniards refused to act as Calusa allies in their conflicts with other Native groups. Hostilities between Europeans and the Natives of South Florida became the rule rather than the exception throughout the region. King Caalus plotted to overthrow the Spaniards, but – betrayed by his cousin – he was killed by them. Hostilities intensified, to the point that early in 1568 Spanish forts at Tocobaga (modern-day Tampa Bay) and Tequesta (modern-day Miami) were abandoned.The remaining Spaniards from Tequesta were moved to a reinforced Fort San Antón in April, 1568. Upon the death of Caalus, his cousin Felipe became king. But Felipe was ultimately unable to walk the uneasy tightrope between Spanish demands and pressure from the Calusa nobles and met his end at the hands of the Spaniards in 1569. Following Felipe's assassination, the Calusa abandoned their town. With no one left to convert or govern, and no one to provide them labor, the Spaniards dismantled the fort and left the island in June, 1569.
Our 2017 excavations uncovered substantial remains of what may be an outer defensive wall or gate, as well as narrower walls of an interior building of unknown function. If only walls could talk, they might shed more light on the Calusa people and their responses to changes in the world around them. Obviously this work has revealed only a small sample of a vast structure, and much more can be learned from future work on Mound Key. As it is, with each new set of findings, we learn more about Florida's "old SanAntón."
We are again grateful to Tim, Ted, and Todd McGee for permission to use their dock and to excavate on their property.
Field work was performed by University of Georgia archaeological field school students (Ian Berrigan, Kate Ganas, Rachael Horton, Hannah Iocovozzi, Nicole Oster, Sarah Refuss, and Sidney Reynolds) under the supervision of Professor Victor Thompson and graduate assistants Kat Napora and Isabelle Lulewicz.They were joined by Karen Walker and Bill Marquardt of the Florida Museum of Natural History/Randell Research Center. This work is supported by a collaborative research grant from the National Science Foundation.
Learn More
Worth, John E., editor and translator. (2014) Discovering Florida: First-Contact Narratives from Spanish Expeditions along the Lower Gulf Coast. University Press of Florida, Gainesville.
Thompson,V., W. Marquardt, A. Cherkinsky, A. D. Roberts Thompson, K. J.Walker, L. A. Newsom, and M. Savarese. (2016) From Shell Midden to Midden-Mound: The Geoarchaeology of Mound Key, an Anthropogenic Island in Southwest Florida, USA. PLOS One. doi: 10.1371/journal.pone.0154611