Researchers study human evolution in many ways. Genetic and genomic data suggest that modern humans may have interbred with archaic hominins during portions of our ancient past. Despite the considerable resources, financial and otherwise, spent studying human evolution, there are certain parts of our history that are murky and hard to reconstruct.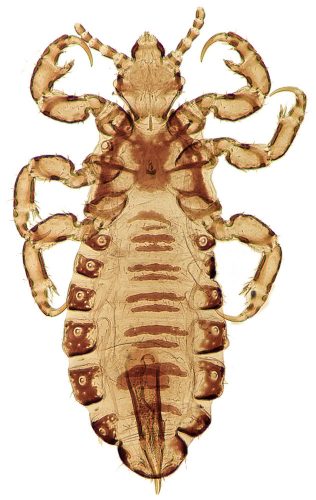 Researchers are now turning to sources of data beyond human fossils and human genetics to find new clues to our past. One strategy is to look at parasites of humans. In the Reed Lab we look at the evolutionary history of lice to infer things about human and primate evolutionary history. We can do this because primate lice have been evolving in tandem with their hosts for millions of years. The closest living relative of the human louse Pediculus humanus is found on chimpanzees.
Like chimpanzees and humans, these lice shared a common ancestor about 6 million years ago, and the head lice that live on humans today have been with us for a long time. Therefore, written in the DNA of human lice is yet another record of our past. For example, human head lice show the genetic signature of a population expansion out of Africa. We are currently funded to explore questions related to human migrations, such as when humans first arrived in the New World.
Want to become a citizen scientist?
Help with our on going Louse-Human Admixture project by sending us your head lice. You can gain experience on research sample collection and have access to our data to find out where your lice came from.
Here in the Reed lab at Florida Museum of Natural History, we are collecting human head lice from all across the world to infer the history of their host to understand historical human migration and possible contact between modern humans and archaic hominins. Our sampling map shows the locations we currently have lice from and the places we are in need of specimens. Our goal is to sample as many places as we can, even if it means it is from multiple locations from the same country.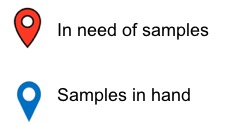 Here are the steps to make your own collection kit at home
You will need,  
Finger nail polish remover (contains acetone for preservation)
Forceps (if you don't want to touch the lice with your fingers)
Small plastic or glass vials with secure caps. ONE vial for each individual human head (host), NOT per louse.
Fine-toothed comb
Sheet of white paper
Permanent marker to label the tubes
Piece of paper to write down the collection information
Instructions (Detailed instructions can be found here: Head_Lice_Collection_Procedure) 
Fill the small vials with finger nail polish remover
Section the hair and comb it down slowly from the roots to the ends onto the white piece of paper using the fine-toothed comb.
Use the forceps to pick the lice that falls off and put them in the vials filled with nail polish remover. You can put up to 10-12 lice in one vial. Lice can be stuck in between the tooth of the comb as well. Be sure to look closely at the comb.
Label the vials with numbers using a permanent marker and make sure you use ONLY ONE vial per host individual (NOT per louse). Each number on the vial should match the host information. Please include the following information about the host and the collection: collection date, country, region/state, age and sex of the host, and the name of the collector.
Once you're done with your collection, please cap the vials and store them in the refrigerator to prevent the nail polish remover from evaporating. Contact Niyomi House by e-mailing nwijewardena@ufl.edu or calling +1 (906)-362-1162 for further instructions on shipping.
If you want us to send you a kit, please request one HERE
Once we receive your specimens,
We randomly pick out lice from each tube from different localities to extract their DNA
After we get pure DNA from the whole louse, we prepare the sample for whole genome sequencing to produce electronic DNA or eDNA to allow us to visualize the genetic makeup of each louse.
Using high performance computers we then analyze the genetic makeup of each louse and compare it with the other louse specimens in the database.
Using various software and high performance computers at the University of Florida, we can analyze the data to answer our research questions. This way, we can investigate the closest relatives of your lice and also the shared evolutionary history of lice and humans.