Sept. 23, 2017-Jan. 7, 2018
Press Release
Major Themes and Components
Did You Know?
Photo Captions
Exhibit Page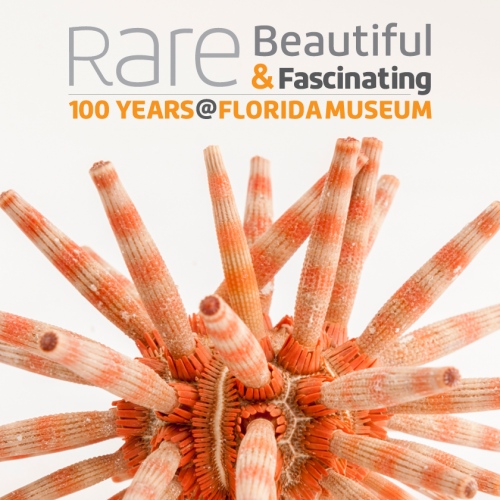 FREE ADMISSION
From rare, ancient treasures to cutting-edge technologies, the exhibit showcases the Museum's 17 collections and research initiatives that address topics from extinction to biodiversity. Visitors may interact with scientists working in the lab from a different collection each week, explore the institution's rich history and learn how the Museum has affected the lives of students, volunteers, employees and donors.
Objects from the Museum's 40 million specimens also reveal the stories of everything from coral reefs to human health to prehistoric life. Discover ways science has changed over time, and how the Florida Museum remains committed to addressing future critical world issues, including biodiversity, climate change, invasive species and more.
Visit Companion Website
Click for high resolution versions of each image for download.
Rare, Beautiful & Fascinating: 100 Years @FloridaMuseum was created by the Florida Museum of Natural History and made possible with financial support from Jon & Beverly Thompson and the 1923 Fund.