GAINESVILLE, Fla. — The Florida Museum of Natural History is hosting "A Celebration of the Life of Alexander von Humboldt" Oct. 6 from 7 to 9 p.m. at the Curtis M. Phillips Center for the Performing Arts in honor of the naturalist's 250th birthday.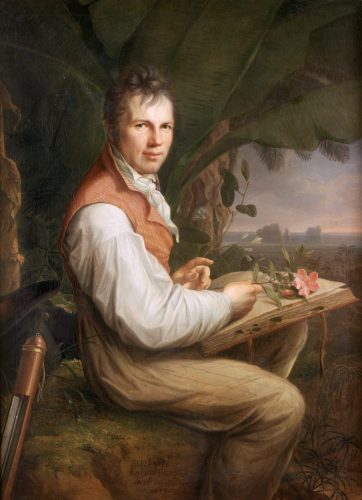 This free event features a special performance by the Gainesville Master Chorale and a talk by best-selling author Andrea Wulf followed by Q&A and a book signing. Wulf wrote "The Invention of Nature: Alexander von Humboldt's New World," which has won 15 international awards and is a New York Times Bestseller.
"It would be hard to overstate the foundational importance of Alexander von Humboldt's diverse scientific contributions," said Michal Kowalewski, Florida Museum Thompson Chair of Invertebrate Paleontology and a Humboldt Foundation fellow. "Directly or indirectly all natural scientists have been influenced by his work."
Humboldt is heralded as the first scientist to note the effects of human-caused climate change and is called the "father of environmentalism." He collected about 60,000 plant specimens when in South America and discovered thousands of new species and genera. The Humboldt penguin and the Humboldt Current, both found along the west coast of South America, are two of the many things named after him.
The Gainesville Master Chorale will perform "This Finely Woven Earth" under the direction of Will Kesling. The concert celebrates Humboldt's global perspective and the present-day significance for the conservation and ecology of the planet.
"This celebration should remind all of us how important it is to follow in Humboldt's footsteps," Kowalewski said. "It is the careful documentation and investigation of nature that gives us hope to safeguard all the wonders of our planet for future generations."
Wulf's books "The Invention of Nature" and "The Adventures of Alexander von Humboldt" are available for purchase at the Florida Museum gift shop. During September and October, the museum will display both books, a map of Humboldt's travels to the Americas, and an abridged version of his journey in the Americas and Asiatic Russia.
The event is sponsored by the Florida Museum of Natural History, University of Florida Performing Arts, the UF Center for Latin American Studies, UF College of Liberal Arts and Sciences, UF George A. Smathers Libraries, UF Biodiversity Institute, UF CLAS Rothman Family Chair in the Humanities and the Gainesville Civic Chorus.
For more information, visit www.floridamuseum.ufl.edu/event/humboldt or call 352-846-2000.
-30-
Writer: Nikhil Srinivasan, 352-273-2034, nsrinivasan@flmnh.ufl.edu
Source: Michal Kowalewski, 352-273-1944, kowalewski@ufl.edu
Media contact: Paul Ramey, APR, 352-273-2054, pramey@flmnh.ufl.edu