GAINESVILLE, Fla. — Florida Museum of Natural History visitors can take an up-close look at mountain gorillas in the new "Gorillas in the Mist: Dian Fossey's Legacy" exhibit.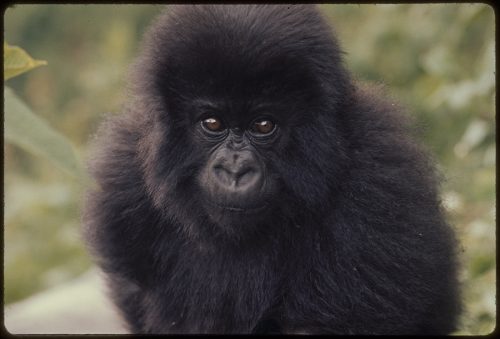 This gallery exhibition features 27 historic high-resolution images by renowned nature photographer Bob Campbell. Campbell captured the first images of peaceful human-gorilla contact with conservationist Fossey in 1970 and 1971, which sparked public interest in their preservation .
The exhibit also includes 3D-printed gorilla skull models from the University of Florida's department of anthropology, an interactive touch table with photos, videos and audio recordings of mountain gorillas as well as a panel with current conservation statistics.
"This exhibit sheds light on the history of gorilla conservation and their plight today," said Tina Choe, Florida Museum exhibit developer. "Populations are declining at an alarming rate due to human encroachment, habitat loss and illegal hunting."
Mountain gorillas are listed as endangered on the International Union for the Conservation of Nature Red List of Threatened Species with an estimated population of about 1,000 individuals. They live in forests at high elevations of 8,000 to 13,000 feet and continue to lose viable habitat as human populations expand and encroach on these forests.
Mountain gorillas were first discovered in 1902 in the Virunga Mountains of East Africa and were recognized as threatened by 1922. The exhibit tells their story over the past century through the lens of Campbell and sheds light on Fossey's contributions to their protection.
"Dian Fossey is a primate conservation pioneer. She, along with Jane Goodall and Biruté Galdikas, sometimes referred to as The Trimates or Leakey's Angels, paved the way and inspired me to make a career in wildlife and nature interpretation and conservation education," Choe said. "I hope when visitors experience this exhibit, it will prompt action in support of all the amazing people working tirelessly to make sure gorillas and other wildlife are around for the future."
The exhibit content is courtesy of the Bob Campbell Papers at UF's George A. Smathers Libraries and The Dian Fossey Gorilla Fund International.
For more information, visit www.floridamuseum.ufl.edu/exhibits/gorillas or call 352-846-2000.
-30-
Writer: Nikhil Srinivasan, 352-273-2034, nsrinivasan@flmnh.ufl.edu
Source: Tina Choe, 352-273-2079, tchoe@flmnh.ufl.edu
Media contact: Paul Ramey, APR, 352-273-2054, pramey@flmnh.ufl.edu