GAINESVILLE, Fla. — Florida Museum of Natural History visitors can enjoy extended hours and free film screenings every Friday in July as part of the University of Florida Creative B program.
Starting July 5 with "Ever After: A Cinderella Story" (1998), the program allows guests to experience the cinematic side of science. The museum will host a reception at 6 p.m. for this opening screening.
At 7 p.m., before each movie screening, a panel of artists, scientists and special effects experts will discuss the science and art shown in the movie. All museum exhibits, except the "Butterfly Rainforest," "Crocs: Ancient Predators in a Modern World" and "Discovery Zone" will be open to the public from 6 to 10 p.m. every Friday throughout July, in addition to normal visiting hours from 10 a.m. to 5 p.m.
This summer's movies explore the interests of Leonardo da Vinci: art, flight, the human body and innovation. Other films include "Those Magnificent Men in Their Flying Machines" (1965) July 12, "Fantastic Voyage" (1966) July 19 and "Mr. Peabody & Sherman" (2014) July 26.
Panelists include Ian Breheny, Florida Museum exhibit designer and Tim Lawrence, a former employee of the motion picture visual effects company Industrial Light & Magic who worked as creature shop supervisor for "Ghostbusters 2" and as concept sculptor for "Jurassic Park."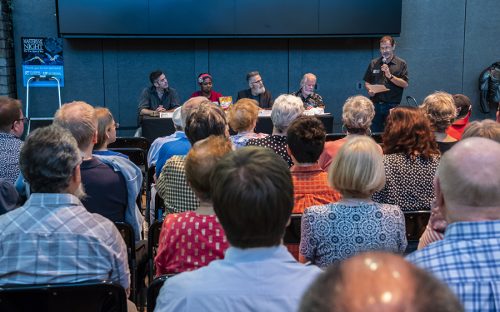 "The Creative B movie series began as a way to illustrate the amazing partnership between art and science," said Tiffany Ireland, Florida Museum educator. "Leonardo da Vinci's work and innovation exemplified this relationship."
Creative B is a UF Provost-sponsored program supporting creative research, activities, projects and performances that take place during the Summer B semester. The program aims to invigorate the campus community during the summer with interdisciplinary creative activities that showcase the collective resources and talents at UF. This summer marks the eighth consecutive year the Florida Museum has participated .
For more information on the movie series, visit floridamuseum.ufl.edu/calendar/tag/creative-b or call 352-273-2061.
For more information about Creative B programs, visit creativeb.aa.ufl.edu
-30-
Writer: Gillian Sweeney, 352-273-2032, PRintern@flmnh.ufl.edu
Source: Tiffany Ireland, 352-273-2061, tireland@flmnh.ufl.edu
Media contact: Paul Ramey, APR, 352-273-2054, pramey@flmnh.ufl.edu