GAINESVILLE, Fla. — When Mary White retired in 2003 after teaching for 20 years at Idylwild Elementary School in southwest Gainesville, she had three things planned.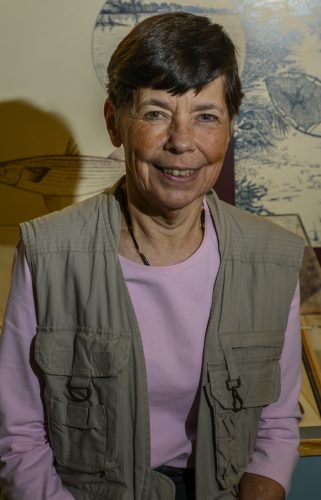 "I was going to become a master gardener, I was going to volunteer at the Florida Museum of Natural History and I was going to go back to volunteering at the hospital, and that's exactly what I did," White said.
Now a full-time volunteer, White has merged her passion for education with the Florida Museum by sponsoring registration for 12 migrant students in the museum's 2019 summer camp program.
Since 2005, the Florida Museum has granted 12 one-week summer camp scholarships to the Alachua Multi-County Migrant Education Program, which serves 12 north Florida school districts. Museum summer camps cover topics like dinosaurs, insects and backyard biodiversity among others.
White has 25 years of experience teaching in elementary schools. She taught sporadically for a few years in Michigan and Massachusetts before moving to Gainesville in the early 1970s with her late husband, Professor Emeritus Neil White, who worked in the University of Florida department of mathematics. Since retiring, she's volunteered at the Florida Museum primarily as a school program docent, but she has also helped with plant sales.
"I really didn't want to help with someone's snail collection or something like that," White said. "I have nothing against snails but I wanted to do something in the area of education. When I heard about the migrant education program, I felt that this would be a worthwhile program that would be a great opportunity for these kids."
She is hopeful her gift to sponsor students in the migrant education program will inspire others to do the same.
"I have a feeling that if word gets around about this program, other people will join in and maybe we can have more of these children come every year," White said. "I definitely plan to stop by the museum this summer to see how they're doing."
Florida Museum educator Tiffany Ireland, who has worked with summer camps since joining the museum in 2002, said she's seen the impact of the program on migrant students and feels it helps inform and educate their communities as well.
"The children get to experience things they really wouldn't be able to otherwise," Ireland said. "They meet scientists, environmentalists and children their age who are also interested in these topics and then they get to share that with their families."
The families tend to work in seasonal industries like agriculture, construction and fishing, among others, which means they live migratory lifestyles as they follow the work. As a result, the children often don't experience a stable education.
"There was a student last year who had never been in any kind of schooling and he was 9 years old," Ireland said. "I really appreciate the migrant education program. They want to provide meaningful experiences and a way to safeguard these vulnerable groups."
Ireland, who has seen White volunteer at the Florida Museum and with other Gainesville organizations, said she wasn't surprised to learn she wanted to help with scholarships for migrant students.
"She really wanted to provide resources for a program that is meaningful with both immediate and long-lasting impact, and educating children is a perfect description of that," Ireland said.
White also volunteers with the Florida Master Gardener Program and at UF Health in the waiting room with families of surgery patients.
"I do quite a bit of volunteering but nothing with kids except for at the museum," White said. "It's my one fix. I love volunteering here because it's such an easy place. The kids are so naturally interested and you learn so much."
Laura Castaños, an academic program coordinator with Alachua County's Migrant Education Program, says that many migrant children have very few opportunities to participate in extracurricular activities, and programs like this have been life-changing for these students.
"It's amazing seeing how much these children cherish programs like this," Castaños said. "In fact, this year we will be offering a Florida Museum summer camp scholarship to a child whose mother attended the same program in 2005!"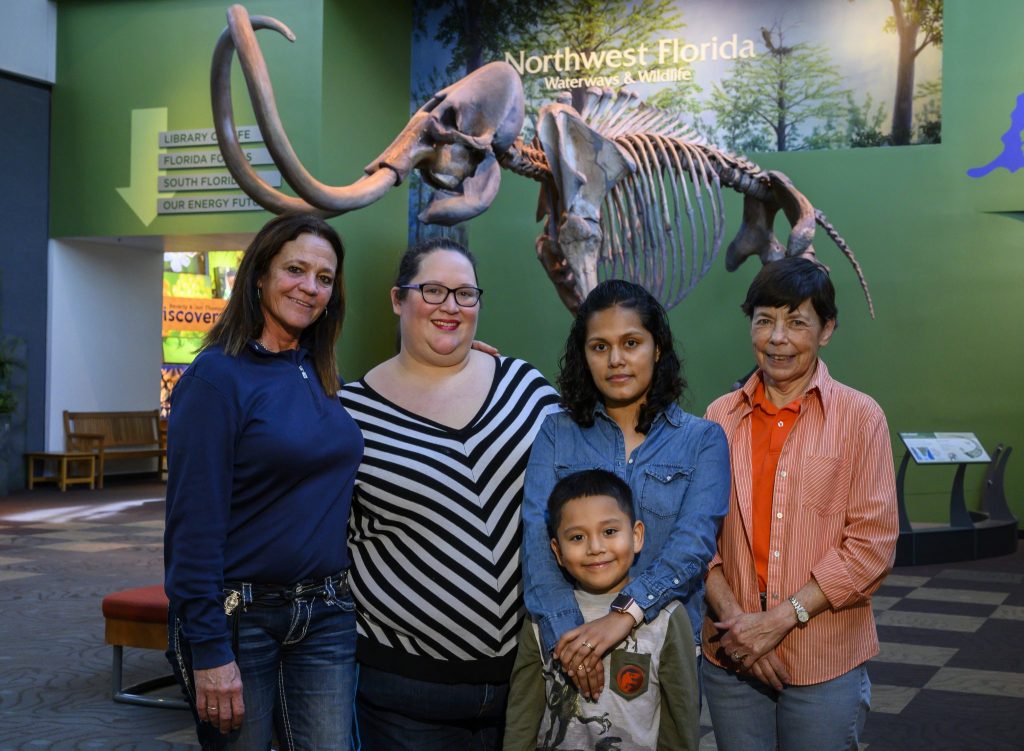 White says her experience as a schoolteacher helps her better connect with students while volunteering. She also has a wider concern for reaching children who may not normally have access to museum resources.
"I remember talking to (Florida Museum McGuire Center for Lepidoptera and Biodiversity Director) Jaret Daniels about how he got into what he's studying and he told me that his grandpa bought him a jar of moth cocoons and as he watched them emerge he was sold," White said. "Well, not every kid has a grandpa who is going to do that. We really need the best school and summer camp teachers who can excite these kids about learning."
White said educating children on their terms is crucial and she uses her upbeat and bubbly personality to make learning more interesting for the students.
"Sometimes you just have to take them where they are," White said of the students. "Sometimes people complain that they didn't finish all the objectives and I say that that doesn't matter as long as the kids had a good time and learned something."
For more information on summer camps at the Florida Museum, visit www.floridamuseum.ufl.edu/kids/summer-camps or call 352-846-2000.
-30-
Writer: Nikhil Srinivasan, 352-273-2034, nsrinivasan@flmnh.ufl.edu
Sources: Tiffany Ireland, 352-273-2061, tireland@flmnh.ufl.edu; Laura Castaños, castanos@gm.sbac.edu
Media contact: Paul Ramey, 352-273-2054, pramey@flmnh.ufl.edu