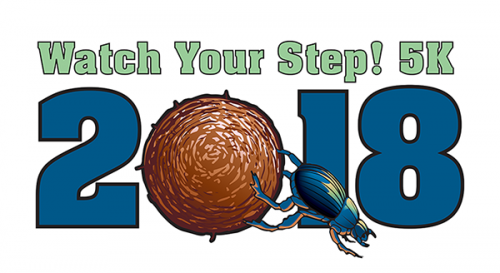 GAINESVILLE, Fla. — The Florida Museum of Natural History will hold its second annual 5K race on Feb. 10 to celebrate the opening of its new featured exhibit "The Scoop on Poop! The Science of What Animals Leave Behind."
The "Watch Your Step! 5K" begins at 8:30 a.m. in the University of Florida Cultural Plaza commuter lot on Hull Road across from the SW Rec Center. Early registration closes Jan. 23. The cost $25 for adults and $20 for youth or UF students with a valid Gator 1 card. For more information or to register, visit www.floridamuseum.ufl.edu/event/watch-your-step-5k or call 352-273-2055.
"This event is different than other 5K races because it is run on the beautiful trails of the UF Natural Area Teaching Laboratory, as well as campus roads," said race director and Florida Museum volunteer coordinator Amy Hester. "It's also unique because participants will be entertained with exhibit-related puns and trivia throughout the course."
Participants will receive a long-sleeved T-shirt and free entry into the "The Scoop on Poop!" exhibit on race day, which is when the Florida Museum is celebrating the exhibit opening. The race is open to all ages and skill levels.
Participants may pick up early registration packets at the museum on Feb. 9 from 3 to 6 p.m.
Registration after Jan. 23 is $30 for adults and $25 for youth or UF students. Race day registration will begin at 7:30 a.m. if spaces are available. Only cash or checks will be accepted on race day and checks should be made payable to the University of Florida.
Medals will be given to all who complete the race, with awards presented at 9:30 a.m. to the 'No. 1', 'No. 2' and 'Turd Place' runners in adult male, adult female, boy and girl categories.
The museum also is partnering with Foster Florida to gather diaper donations for area foster families. Any race participant who brings a new, unopened package of diapers will be entered into a raffle to win a prize from race sponsors.
Admission to "The Scoop on Poop!," which will be displayed Jan. 27-May 6 is $7.50 for adults ($6.50 for Florida residents, seniors and college students); $5 for ages 3-17 and free to museum members and UF students with a valid Gator 1 card.
"The Scoop on Poop!" was created by Peeling Productions at Clyde Peeling's Reptiland, Allenwood, Pennsylvania.
-30-
Writer: Catalina Ruiz, 352-273-2032, PRintern@flmnh.ufl.edu
Source: Amy Hester, 352-273-2055, ahester@flmnh.ufl.edu
Media contact: Paul Ramey, 352-273-2054, pramey@flmnh.ufl.edu