GAINESVILLE, Fla. — Florida Museum of Natural History visitors will have the opportunity to participate in special opening day activities Saturday from 10 a.m. to 3 p.m. for the "Rare, Beautiful & Fascinating: 100 Years @FloridaMuseum," featuring museum scientists, a story booth area and more.
Hands-on stations will allow guests to examine museum artifacts, specimens and 3-D printed replicas, as well as interact with researchers from the museum's herbarium, herpetology and archaeology divisions, and marine biologists from the Florida Fish and Wildlife Conservation Commission.
"It's an amazing moment in any museum's history to celebrate a 100th anniversary," said Darcie MacMahon, Florida Museum exhibits and public programs director. "In addition to showcasing some incredible objects from the collections, we have the wonderful opportunity to honor our history, acknowledge our present and look ahead into the future."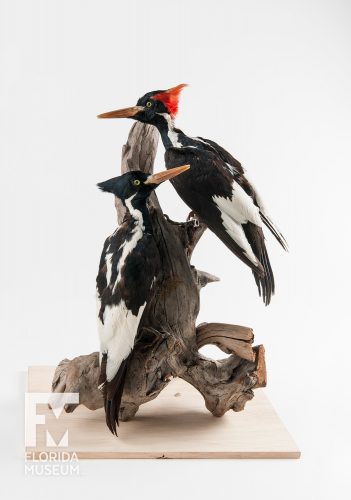 This free exhibit celebrates the Florida Museum's 100th anniversary as the state's official natural history museum and features objects that reveal stories about everything from human health to prehistoric life to invasive species. The exhibit also includes a mobile experience with an audio tour and scavenger hunt, as well as a working lab with scientists from a different collection each week.
Visitors can learn more about the museum's history over the past 100 years, and discover how the institution has affected the lives of students, volunteers, employees and other stakeholders. The exhibit also illustrates how museum collections document life on Earth and demonstrate how scientists use technology to make new discoveries.
"We hope people will understand why we collect things and the importance museum collections have for understanding our world and future issues such as climate change and biodiversity loss," MacMahon said.
Highlighted specimens and artifacts include a rearticulated 26-foot-long juvenile male humpback whale skeleton suspended from the ceiling, extinct species and some of the museum's most treasured objects from each collection area.
Tablets will be available for checkout or visitors may use their own mobile devices for an exhibit audio tour and scavenger hunt.
"Rare, Beautiful & Fascinating: 100 Years @FloridaMuseum" was created by the Florida Museum and made possible with financial support from Jon and Beverly Thompson and the 1923 Fund.
For more information, visit www.floridamuseum.ufl.edu/event/rare-beautiful-fascinating-open or call 352-846-2000.
-30-
Source: Darcie MacMahon, 352-273-2053, dmacmahon@flmnh.ufl.edu
Media contact: Paul Ramey, 352-273-2054, pramey@flmnh.ufl.edu