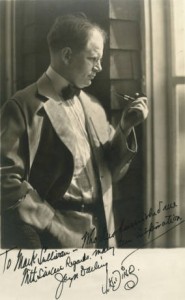 GAINESVILLE, Fla. — Visitors will have the opportunity to discover the great American story of an artist who changed the face of conservation education and preservation in the screening of "America's Darling: The Story of Jay N. 'Ding' Darling" at the Florida Museum of Natural History Feb. 9 at 2 p.m.
The movie depicts the life of Pulitzer Prize-winning cartoonist and wildlife advocate Jay Norwood Darling (1876-1962), who was appointed by President Franklin Roosevelt as the head of what would later become the U.S. Fish and Wildlife Service. Darling later helped found the National Wildlife Federation.
Though Darling took on national issues, his story touches Florida in a special way. The "J.N. 'Ding' Darling National Wildlife Refuge" on Sanibel Island was named in his honor and considered to be one of Darling's favorite bird-watching locations.
"It's great for people to know how an artist changed the way we look at conservation," said Florida Museum of Natural History public programs coordinator Catherine Carey. " 'America's Darling' is not a film one would normally find on their own, so this is a rare opportunity."
For more information on the program and a trailer of the film, visit http://www.floridamuseum.ufl.edu/calendar/grid/americas-darling-film-screening/.
-30-
Writer: Francis Diaz, fdiaz@flmnh.ufl.edu
Source: Catherine Carey, ccarey@flmnh.ufl.edu
Media contact: Paul Ramey, 352-273-2054, pramey@flmnh.ufl.edu