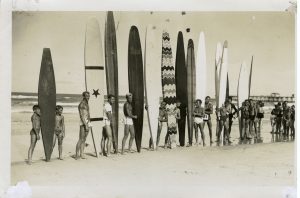 GAINESVILLE, Fla. — "Catch the wave" at the Florida Museum of Natural History as it opens two new temporary surfing exhibits Aug. 31.
"Surfing Florida: A Photographic History" explores the sport's rich cultural history in Florida, while "Surf Science: Waves and Wildlife" mixes museum specimens with interactive stations to provide interesting details about animals that live at the beach, some of which also surf.
"For Floridians the ocean is always in our lives," said Florida Museum assistant director for exhibits Darcie MacMahon. "Surfing is inherently interesting because even if you don't surf you always see people surfing at the beach. It's a beautiful sport. We're hoping people come to both celebrate the coastal resources and learn more about the natural history of the beach."
"Surfing Florida: A Photographic History," documents Florida's surfing history through photographs and interpretive graphics, as well as video film clips and oral histories from well-known Florida surfers. The Florida Museum is augmenting the exhibit with surfboard collections, stories from the University of Florida Surf Club and a display showing how surfboards are crafted.
"Surf Science" features the Florida Museum's famed International Shark Attack File and shark research programs, and allows visitors to examine different types sand and specimens from the museum's fish, mammal and marine invertebrate collections. It also includes human stories about beach- and surf-dwelling animals.
The museum will present opening day activities Sept. 14, and display the exhibits through Jan. 20, 2014. Admission is $4 for adults ($3.50 Fla. residents and seniors); $3 for ages 3-17 and free to museum members and UF students with a valid Gator 1 card.
"Surfing Florida: A Photographic History" was organized by the University Galleries, Florida Atlantic University, Boca Raton, with support from the Florida Humanities Council and the National Endowment for the Humanities.
For more information, visit http://www.floridamuseum.ufl.edu/exhibits.
-30-
Writer: Francis Diaz, fdiaz@flmnh.ufl.edu
Source: Darcie MacMahon, dmacmahon@flmnh.ufl.edu, 352-273-2053
Media Contact: Paul Ramey, pramey@flmnh.ufl.edu, 352-273-2054