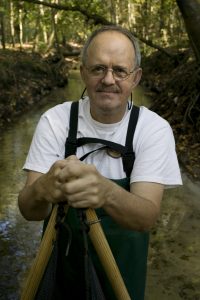 GAINESVILLE, Fla. — Florida Museum of Natural History researchers have co-authored the latest edition of the universal reference for fish names in North America, an important resource for scientists, naturalists and fishermen.
The publication improves communication among fisheries biologists and others with an interest in fishes, a vital resource with substantial economic importance for humans. U.S. commercial and recreational saltwater fishing generated more than $199 billion in sales in 2011, according to the National Oceanic and Atmospheric Administration's Fisheries Service.
The seventh edition of "Common and Scientific Names of Fishes from the United States, Canada, and Mexico" is compiled by a joint committee of the American Fisheries Society and the American Society of Ichthyologists and Herpetologists. Published online in April by the American Fisheries Society and now available in print, the book continues efforts to standardize names of North American freshwater and marine fishes.
"Every ichthyologist and every fisheries biologist relies on this book for the correct names to use in any publication," said lead author Larry Page, ichthyology curator at the Florida Museum of Natural History on the University of Florida campus. "It's a really important reference because of all the popular articles written on fishes. People have to use the correct name if they're going to clearly communicate."
The book includes 3,875 native and established exotic freshwater and marine species in the U.S., Canada and Mexico with their accepted scientific and common names. It lists Spanish or French names if their distribution occurs where those languages are spoken and distinguishes when species are extinct or established, meaning non-natives that are breeding.
The book's first edition, published in 1948 with 570 entries, primarily included the better-known sport, commercial and forage fishes. Major changes from the previous edition published in 2004 include the addition of Arctic Ocean species, common names in French for Canadian species and capitalization of all common names in English.
While most modifications were straightforward, some species are ambiguous because of conflicting conclusions among scientists. In controversial circumstances, the joint committee seeks opinions of experts and chooses the name that seems best supported, Page said.
"When names are changed, we have to explain why we changed them and refer to the systematic studies," said Page, who chairs the seven-member board.
At the annual American Society of Ichthyologists and Herpetologists meeting, members participate in discussions about fish names and nomenclature. The dialogue sometimes results in "minor points of controversy," said Bruce Collette, a senior scientist at the National Marine Fisheries Service Systematics Laboratory who has participated in many of the discussions.
"Some of the problems have to do with species vs. subspecies, particularly in minnows, the Cyprinidae," Collette said. "Classically, a number of people have recognized a species as being composed of several geographic subspecies, and the checklist only gives common names for species. Some ichthyologists, particularly those more genetically interested, have pushed to raise some of the subspecies to species level, and so that increases the number of common names."
Names often evolve based on new research, but may also be changed for other reasons. Two names were changed in previous editions because they were insulting or offensive: the Northern Squawfish to the Northern Pikeminnow and the Jewfish to the Goliath Grouper. Debates also occur about which marine fishes to include or which common name to use if the same fish is referred to by different local names.
"As it says in the introduction, they voted on these things and voting was not always unanimous and probably none of the members of the committee, and certainly not me, would agree with every single name," Collette said. "It's got to have a consensus, and so, we've got a consensus. It's a good group of people that really try hard to come up with a list of names."
About 10 percent of the world's estimated 33,000 marine and freshwater species occur in North America. To update future changes more quickly, the committee hopes to review and evaluate names online in a format that facilitates outside contributions, Page said.
Book co-authors include Héctor Espinosa-Pérez of the National Autonomous University of Mexico, Lloyd Findley of Centro de Investigación en Alimentación y Desarrollo (Center for Food Research and Development), Carter Gilbert, emeritus curator of fishes at the Florida Museum, Robert Lea of the California Academy of Sciences, Nicholas Mandrak of the Great Lakes Laboratory for Fisheries and Aquatic Sciences, Richard Mayden of Saint Louis University and Joseph Nelson (deceased 2011) of the University of Alberta, Edmonton.
-30-
Writer: Danielle Torrent, dtorrent@flmnh.ufl.edu
Source: Larry Page, office: 352-273-1951, cell: 352-256-1889, lpage@flmnh.ufl.edu
Media contact: Paul Ramey, 352-273-2054, pramey@flmnh.ufl.edu