GAINESVILLE, Fla. — New Florida Museum of Natural History research shows a turtle population may recover from a one-time harvesting event after decades, but habitat degradation may favor more tolerant species.
Between 1969 and 1980, the northern map turtle was harvested in the Ozarks for the food trade, causing about 50 percent population loss. Analyzing a river in Missouri from 2005 to 2007, scientists found northern map turtle populations have rebounded to numbers recorded in the same river in 1969. The data shows a shift in the river turtle community, with a dramatic increase in two species that are more tolerant of degraded habitat: the red-eared slider and the common musk turtle. The study was published online Monday in the journal Reptilia-Amphibia.
"We have degraded and lost a great amount of habitat around this area because of road construction, bridge building and tremendous numbers of canoes going down the river," said study co-author Max Nickerson, herpetology curator at the Florida Museum of Natural History on the University of Florida campus. "The hellbender salamander population has crashed, but in this case, the turtles are still hanging in there."
The research is a continuation of surveys conducted in 2004 that showed the turtle population had not yet rebounded, but females were on the rise. Inhabiting river systems from southern Arkansas to Quebec, the northern map turtle, Graptemys geographica, is among the most wide-ranging map turtles in the U.S. They are dietary specialists and depend mainly on snails, making the species especially susceptible to biodegradation.
Harvesting and habitat degradation threaten wildlife populations worldwide and may also impact local economies. Like Missouri, North Central Florida has some of the highest concentrations of spring-fed rivers in the country.
"If there's one thing we need to pay attention to in North Central Florida as a very important component of the economy for many of our towns and the enjoyment of all the people in the area, it's these spring-fed rivers," Nickerson said. "If populations of wildlife decline on these rivers, that's not a real good indicator of things. Species have been collected on the Santa Fe River in the past and there's no way of knowing if populations are anything like they were before."
The research offers a unique perspective on river turtles thanks to initial surveys done by Nickerson in 1969 and 1980. Researchers used similar methods to survey the nearly 3-mile stretch of the North Fork of White River in Ozark County, Mo., from 2005 to 2007 by snorkeling to locate, tag and record information about the turtles. While populations showed signs of improvement in 2005 and 2006, they rebounded to pre-harvesting numbers by 2007, a process that took at least 27 years.
Formerly called common map turtles, the northern map turtle is listed in Appendix III of the Convention on International Trade in Endangered Species of Wild Fauna and Flora. They are estimated to live at least 20 years in the wild, with females reaching sexual maturity from 10 to 14 years old. The study suggests the population recovery time was more than an individual's life expectancy and about twice the amount of time it takes for females to reach sexual maturity, said lead author Amber Pitt, a Clemson University postdoctoral research fellow who conducted research for the study as a UF graduate student.
"The population appears to have rebounded but the results of the study are not entirely good news because the community is shifting toward more generalist species," Pitt said. "The rebound is also affected by the increased number of hatchlings, which may or may not have great survivorship, so the population may fluctuate depending on how many hatchlings survive."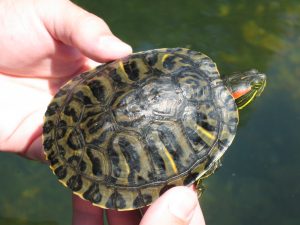 Unlike northern map turtles, which depend on snails that require healthy ecosystems to survive, generalist species like the red-eared slider, Trachemys scripta elegans, and common musk turtle, Sternotherus odoratus, are expected to succeed when habitat has been degraded, Pitt said. In a degrading habitat, generalist species become more common than specialist species and the specialist species have nowhere to go, Pitt said.
Although scientists generally agree turtle populations are declining worldwide, little has been published on long-term river turtle communities, said Don Moll, a professor emeritus at Missouri State University who co-authored a textbook on freshwater turtles.
"This study provides support for some earlier predictions that were made by population analyses and that's important because it strengthens the capabilities for management plans for turtles and underscores how incapable they are of sustaining any kind of exploitation," Moll said. "If they do get reduced, it's going to take an awful long time for the population to come back."
Northern map turtles in the Ozarks offer valuable information because they experienced a population decline that was remedied, which is not the case for many threatened species.
"The bad news for turtles is that – unlike in our study area – harvesting of most turtle populations is ongoing, which means that most turtle populations are not given the opportunity to recover," Pitt said. "Basically, turtles are declining throughout the world and that includes turtles in the U.S., but hopefully, as people become more aware of the issue, we can change that trend."
-30-
Writer: Danielle Torrent, dtorrent@flmnh.ufl.edu
Source: Max Nickerson, office: 352-273-1946, maxn@flmnh.ufl.edu
Source: Amber Pitt, 864-656-4823, apitt@clemson.edu
Media contact: Paul Ramey, 352-273-2054, pramey@flmnh.ufl.edu