By Dawn Mitchell | PCP PIRE Project Assistant
The Florida Museum of Natural History and PCP PIRE would like to welcome our new microvertebrate specialist, Ian Cannon. Ian hails from New Orleans, Louisiana and attended Louisiana State University for his undergraduate degree.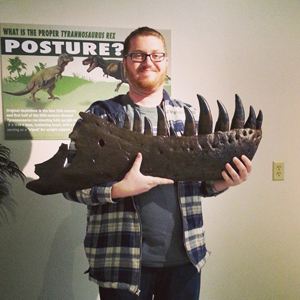 As an undergraduate, Ian had an interest in vertebrate paleontology. He was able to gain experience with Pliocene and Pleistocene mammal fossils of Louisiana and Texas through fieldwork and screenwashing in the fossil collections at LSU. He graduated from LSU in 2014 with a B.A. in anthropology and a minor in geology. After he graduated, Ian went on to a GeoCorps internship in Cañon City, Colorado to work in the Garden Park Fossil Area. This area is known for its dinosaur fossils that were made famous by the Bone Wars of the 1870s and 1880s. Other fossil animal groups that Ian is interested include crocodyliforms, xenarthrans (especially large sloths) and big cats and other large carnivorans.
Ian started working at FLMNH at the beginning of June and he is already quite busy. FLMNH recently received an 800lb crate full of sediment from the Smithsonian Tropical Research Institute. He has been working on getting the sediment screenwashed and picked so he can identify and catalog any microvertebrate fossils. He is interested in examining the Miocene fossils from Panama because there are several animals, such as rodents, that are analogous to those found in areas of North America he is familiar with; however, he is also learning more about different groups of animals. We are excited to see what we can learn from the microvertebrate fossils Ian will find and we welcome him to the PCP PIRE team!
---
Por Dawn Mitchell | Asistente del Proyecto PCP PIRE
El Museo de Historia Natural de Florida y el PCP PIRE le dan la bienvenida a nuestro nuevo especialista de microvertebrados, Ian Cannon. Ian viene de Nueva Orleans, Louisiana, donde hizo sus estudios de pregrado en la Universidad del Estado de Louisiana (LSU).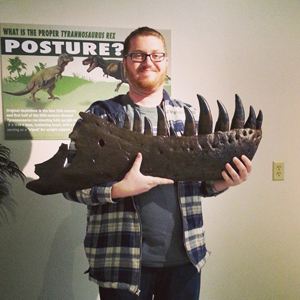 Durante su pregrado, Ian se interesó por la paleontología de vertebrados. Él ganó experiencia con fósiles de mamíferos del Plioceno y Pleistoceno de Louisiana y Texas mediante el trabajo de campo y tamizado de las colecciones fósiles de LSU. Él se graduó en el 2014 en antropología con una mención en geología. Luego de graduarse Ian hizo una pasantía en GeoCorps, en Canyon City (Colorado), donde trabajó en el área de "Fossil Garden Park". Esta zona es conocida por los fósiles de dinosaurios que se hicieron famosos en la Guerra de los Huesos entre 1870 y 1880. Otros grupos de animales fósiles en los que Ian está interesado incluyen crocodiliformes, xenartros (especialmente perezosos gigantes), grandes felinos y otros carnívoros grandes.
Ian comenzó a trabajar en el Museo de Historia Natural de Florida (FLMNH) a inicios de junio y ya tiene una agenda ocupada. El FLMNH recibió un cajón de casi 400 kilos de sedimento procedente de Panamá. Él ya comenzó a tamizarlo y a identificar y catalogar los fósiles encontrados. Él está interesado en examinar los fósiles del Mioceno de Panamá por sus numerosos animales análogos a los de áreas de Norte América con los que él está familiarizado (por ejemplo, roedores); sin embargo, también está aprendiendo sobre otros grupos de animales. Estamos entusiasmados por ver los microvertebrados fósiles que Ian encontrará y todos los del equipo del PCP PIRE le damos la bienvenida.