By Cristina Robins | PCP PIRE Post Doc
PCP PIRE co-sponsored the Fourth Annual Network for Neotropical Biogeography Conference (NNB4) held at Tupper Hall in the Smithsonian Tropical Research Institute in Panama City Jan. 14 – 17, 2015. The theme of the meeting was the Great American Biotic Interchange (GABI), with a special note on how the rise of the isthmus of Panama changed the biodiversity of the world. This conference uniquely brought together fossil workers and modern workers, presenting their research on the massive biodiversity origins of the neotropics. Attendees at the conference were based in many countries, including the US, Panama, Mexico, Colombia, Brazil, Chile, Sweden, the Netherlands, the UK, Switzerland, Germany, France and Canada.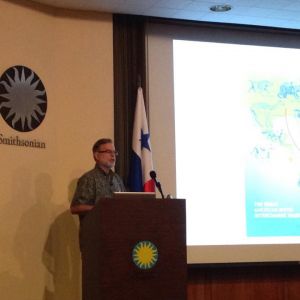 Ten PCP PIRE participants attended the conference, including PIs Bruce MacFadden, Doug Jones, Gary Morgan and our host, Carlos Jaramillo. Post-docs attending included Cristina Robins and Nathan Jud. Graduate students Ryan Haupt, Victor Perez, Aldo Rincon and Julia Tejada rounded out the list of attendees. Rincon gave a well-received keynote address about the Miocene Mammals of Panama. Other topics included Lake Alajuela (MacFadden, Jones), fossil bats of Panama (Morgan), fossil crocodylians along the canal (Haupt), fossil crabs (Robins), fossil assemblages in Peru (Tejada), Lake Bayano fossil shark populations (Perez) and paleobiogeographical implications of new plant fossils from Panama (Jud). There were also field trips on the first and last days of the conference; conference attendees were able to get up-close to the Panama Canal with a PCP PIRE led field trip to canal localities on Jan. 14 and Jan. 17.
During the conference, organizers Carlos Jaramillo and Liliana Londoño allowed for ample time for networking and discussion of overlapping research projects and new avenues for exploration. Many attendees look forward to fruitful new collaborations within and across subdisciplines.
---
Por Cristina Robins | Post Doctorante del PCP PIRE
El PIRE PCP co-patrocinó la cuarta conferencia anual de la Red de Biogeografía Neotropical (NNB4), la misma que fue celebrada del 14 al 17 enero del 2015, en el Salón Tupper del Instituto Smithsonian de Investigaciones Tropicales en la ciudad de Panamá. El tema de la reunión fue el Gran Intercambio Biótico Americano (GABI), con una nota especial sobre cómo el surgimiento del istmo de Panamá cambió la biodiversidad del mundo. Esta conferencia reunió a investigadores de fósiles y de organismos modernos, quienes presentaron trabajos sobre los orígenes de la enorme biodiversidad del Neotrópico. Los asistentes a la conferencia vinieron de muchos países, incluyendo los EE.UU., Panamá, México, Perú, Colombia, Brasil, Chile, Suecia, los Países Bajos, el Reino Unido, Suiza, Alemania, Francia y Canadá.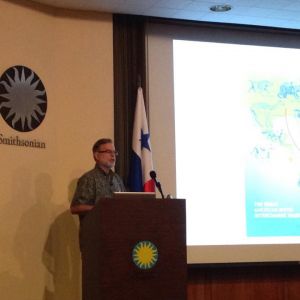 Diez participantes del PCP PIRE asistieron a la conferencia, incluyendo los investigadores principales Bruce MacFadden, Doug Jones, Gary Morgan y nuestro anfitrión, Carlos Jaramillo. Los post-doctorantes asistentes fueron Cristina Robins y Nathan Jud, mientras que los estudiantes de post-grado estuvieron representados por Ryan Haupt, Víctor Pérez, Aldo Rincón y Julia Tejada. Rincón dio un bien recibido discurso inaugural sobre los mamíferos del Mioceno de Panamá. Otros temas incluyeron al Lago Alajuela (McFadden, Jones), los murciélagos fósiles de Panamá (Morgan), los cocodrilos fósiles a lo largo del canal (Haupt), cangrejos fósiles (Robins), asociaciones fósiles en la Amazonia peruana (Tejada), poblaciones de tiburones fósiles del Lago Bayano (Pérez) y las implicaciones paleobiogeográficas de nuevos fósiles de plantas de Panamá (Jud). También hubo visitas de campo en el primer y último día de la conferencia donde los asistentes pudieron ver de cerca al Canal de Panamá y sus localidades fosilíferas. Estas excursiones fueron lideradas por el PCP PIRE y se llevaron a cabo el 14 y 17 de enero.
Durante la conferencia, los organizadores Carlos Jaramillo y Liliana Londoño otorgaron tiempo suficiente para la creación de redes y la discusión de proyectos comunes de investigación y nuevas vías para la exploración. Muchos de los asistentes esperan nuevas y fructíferas colaboraciones dentro y a través de sus subdisciplinas.