By the Spring 2015 Field Interns
Our Spring 2015 cohort of field interns wrote short introductions about themselves describing their past experiences and their expectations for the internship. They are excited to be doing fieldwork down in Panama and we are excited to be working with them!
Adam Bouché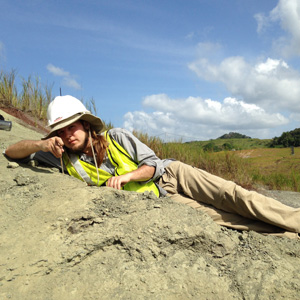 I completed my Bachelor of Science in Geology-Biology at Brown University in 2014. As an undergraduate, I conducted fieldwork in geologic mapping, geomorphology, and coastal ecology. My senior thesis utilized biogeochemistry to examine the complex interactions between plants, water, and soils, especially as they pertain to agricultural systems with impacts on environmental health and public policy. This is my first foray into the world of paleontology, and I'm excited to increase the diversity of my scientific experience and focus my interests before committing to a graduate program. Since leaving Brown, I have participated in the Geologic Society of America GeoCorps program as an archaeological monitoring and GIS intern at the Bureau of Land Management in Grand Junction, Colorado. I'm excited to be working and living in Panamá and during my time as a PCP-PIRE intern, I hope to work closely with the Biomuseo to develop new opportunities for Panamanians and international visitors to engage with this country's wealth of history, beauty, and natural resources.
Sophie Westacott
I graduated with a BA from Smith College, Massachusetts in May 2013, majoring in Geosciences. This past summer and fall I participated in GeoCorps America at Capitol Reef National Park, Utah, where I helped visitors connect with the region's stunning sedimentary strata through guided walks and interpretive talks. My undergraduate research focused on silicification of invertebrate fauna from Lower Triassic limestones in southeastern Nevada, but I'm interested in just about anything rock- or fossil-related. I wanted to join the PCP-PIRE team to gain field experience, try out vertebrate paleontology, and get to know Panama both culturally and geologically. In addition to practicing my Spanish, I'm looking forward to finding out what some old teeth, bones and leaves can tell us about the formation of the Panamanian isthmus and the global changes brought on by such a small stretch of land!
Sonia Sanchez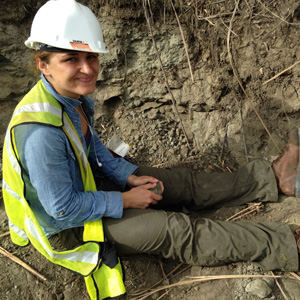 I completed my bachelors of science in geology from Appalachian State University in North Carolina. I have applied to graduate school for this coming fall, and want to specialize in sedimentology. In particularly, I am interested in interdisciplinary sedimentological research focusing on basin analysis and the incorporation of quantitative modeling. I decided to apply for the PCP-PIRE internship program for the spring to get more field work experience in my semester off before graduate school. The closing of the isthmus of Panama yields a complex, rich geologic area, which seemed like a great area to gain more field experience. In addition, it would provide international exposure and an opportunity to practice my bilingual communication skills in geology. I am very excited to be here!
Jeremy Dunham
After earning my BS from Georgia State University in the summer of 2014, I was seeking a chance to gain more field experience and expand my knowledge of paleontology before entering graduate school in the fall of 2015. Early in my academic career my emphasis was on the predation of mollusks via drilling from the Oligocene Byram Formation in Vicksburg, MS, and Pleistocene aged mollusks of Snake Island of the Lower Waccamaw Formation. Over the last two years the focus of my research has turned to experimental clay synthesis working better to understand the origin and formation of authigenic clays in East Africa for paleolimnological reconstruction. My interest with the PCP-PIRE project is rooted in the big-picture geologic story of Panama. My hope is to learn more about the geochronology of the area, and observe how sedimentation and the taxa present in the formations change in response to the fluctuations in sea-level. My goal for the future is to reconnect the the dynamic nature of the biological realm to the surrounding geology and observe their interactions. I believe by delving deeper into the relationship shared between these two great spheres, a more complete understanding of global processes can be determined.
---
Por los practicantes de campo de la Primavera 2015
Nuestro grupo de practicantes de la primavera 2015 presenta a continuación una introducción sobre sí mismos donde describen sus experiencias y expectativas para la pasantía. Ellos están muy contentos de estar haciendo trabajo de campo en Panamá y nosotros, entusiasmados de trabajar con ellos!
Adam Bouché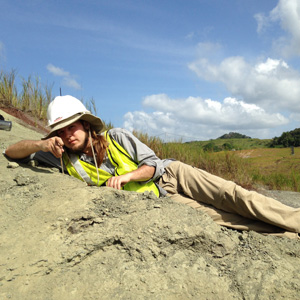 Terminé mi licenciatura en ciencias, Geología-Biología, en la Universidad de Brown en el 2014. Como estudiante de pregrado, llevé a cabo trabajo de campo en cartografía geológica, geomorfología y ecología costera. Mi tesis de pregrado utilizó biogeoquímica para examinar las complejas interacciones entre plantas, el agua y los suelos, sobre todo con respecto a los sistemas agrícolas con efectos sobre la salud del medio ambiente y las políticas públicas. Esta es mi primera incursión en el mundo de la paleontología, y estoy emocionado de aumentar la diversidad de mi experiencia científica y enfocar mis intereses antes de comprometerme con algún programa de postgrado. Desde que salí de Brown, he participado en el programa GeoCorps de la Sociedad Geológica de América como monitor arqueológico y pasante del GIS en la Oficina de Administración de Tierras en Grand Junction, Colorado. Estoy emocionado de estar trabajando y viviendo en Panamá y durante mi tiempo como pasante del PCP-PIRE, espero trabajar estrechamente con el Biomuseo para desarrollar nuevas oportunidades para los panameños y visitantes internacionales de involucrarse con la riqueza de su historia, la belleza de este país y sus recursos naturales.
Sophie Westacott
Me gradué con una licenciatura en Ciencias de la Tierra en la universidad de Smith, Massachusetts, en mayo del 2013. Este verano y otoño pasados participé en GeoCorps America en el Parque Nacional Capitol Reef, Utah, donde ayudé a los visitantes a conectarse con las impresionantes capas sedimentarias de la región a través de caminatas guiadas y charlas interpretativas. Mi investigación de pregrado se enfocó en la silicificación de la fauna de invertebrados de las calizas del Triásico inferior en el sureste de Nevada, pero mi interés se expande a todo lo relacionado con rocas o fósiles. Quería formar parte del equipo PCP-PIRE para ganar experiencia de campo, conocer sobre paleontología de vertebrados y conocer a Panamá tanto cultural como geológicamente. Además de practicar mi español, tengo muchas ganas de averiguar lo que algunos dientes viejos, huesos y hojas pueden decirnos acerca de la formación del istmo de Panamá y los cambios globales provocados por tal pequeña franja de tierra.
Sonia Sanchez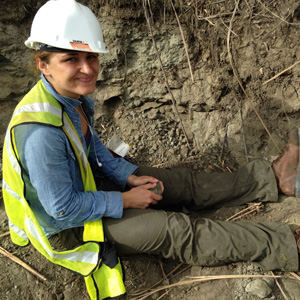 Terminé mi licenciatura de ciencias geológicas en la Universidad Estatal de los Apalaches en Carolina del Norte. He postulado a algunas universidades para el próximo otoño pues quiero especializarme en sedimentología. En particular, estoy interesada en la investigación sedimentológica interdisciplinaria centrada en el análisis de las cuencas y la incorporación de modelos cuantitativos. Decidí aplicar para el programa de prácticas del PCP-PIRE para obtener más experiencia de trabajo de campo en mi semestre antes de la escuela de postgrado. El cierre del istmo de Panamá proporciona una zona rica y compleja geológicamente, constituyendo una gran zona para ganar más experiencia de campo. Además, esta experiencia me proporciona una exposición internacional y la oportunidad de practicar mis habilidades de comunicación bilingües en geología. ¡Estoy muy emocionada de estar aquí!
Jeremy Dunham
Después de obtener mi licenciatura de la Universidad Estatal de Georgia en el verano del 2014, estuve buscando la oportunidad de ganar más experiencia de campo y ampliar mi conocimiento en paleontología antes de entrar a una escuela de posgrado en el otoño del 2015. Al principio de mi carrera académica, mi énfasis estaba en la depredación de moluscos a través de la perforación de la Formación Byram del Oligoceno, en Vicksburg, MS, así como moluscos envejecidos del Pleistoceno de la Isla Snake, Formación Waccamaw inferior. Durante los dos últimos años el foco de mi investigación se ha convertido en la síntesis experimental de arcilla para comprender el origen y la formación de arcillas autigénicas de África oriental para su reconstrucción paleolimnológica. Mi interés en el proyecto PCP-PIRE tiene sus raíces en la gran historia geológica de Panamá. Mi esperanza es aprender más acerca de la geocronología de la zona y observar cómo la sedimentación y los taxones presentes en las formaciones cambian en respuesta a las fluctuaciones en el nivel del mar. Mi meta para el futuro es volver a conectar el carácter dinámico de la esfera biológica a la geología de la zona y observar sus interacciones. Creo que profundizando en la relación compartida entre estas dos grandes esferas, se puede determinar un entendimiento más completo de los procesos globales.