By Diego Ramírez | PCP PIRE Graduate Student
Currently I'm a 2nd year Geology masters student at the University of Florida. However my research in Panama started about 4 years ago when I worked alongside Dr. Camilo Montes in the Panama Geology Project at the Smithsonian Tropical Research Institute. With assistance from PCP-PIRE and my advisor Dr. David Foster, I've been able to continue my investigation into the ultimate source of the 35-45 million year old sedimentary rocks from Panama and the exhumation history of the Central American volcanic arc.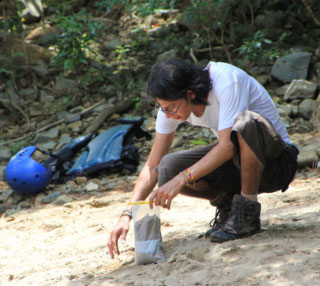 This volcanic arc formed when the Farallon Plate subducted underneath the Caribbean Plate in the Late Cretaceous. Today the arc is represented by a series of igneous complexes extending from southern Costa Rica to eastern Panama. Although these basement rocks and the sedimentary rocks deposited on top are highly deformed in Costa Rica, those found in the Azuero Peninsula and Central Panama are without deformation.
By studying the records of erosion in the Eocence Tonosi and Gatuncillo Formations, I hope to provide additional information to validate or invalidate earlier proposed tectonic models of the region. The tectono-thermal information of previously exposed bedrock is retained in the sedimentary basin adjacent to the orogenic highland. Analyses of U-Pb and Lu-Hf isotopes in detrital zircons and (U-Th)/He ratios in detrital apatites can reveal the source from which these sediments were produced, the cooling events that brought these igneous rocks to the surface, and the timing of the Central American Seaway closure.
---
Por Diego Ramírez
Actualmente soy estudiante de segundo año de la maestría en Geología de la Universidad de la Florida. Sin embargo, mi investigación en Panamá comenzó hace unos 4 años, cuando trabajaba junto con el Dr. Camilo Montes en el Proyecto de Geología Panamá en el Instituto Smithsonian de Investigaciones Tropicales. Con la ayuda del PCP-PIRE y mi asesor el Dr. David Foster, he podido continuar mi investigación sobre la fuente última de las rocas sedimentarias de Panamá de 35 hasta 45 millones años de edad y la historia de la exhumación del arco volcánico centroamericano.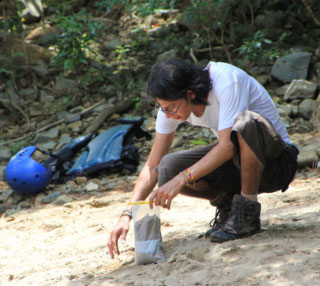 Este arco volcánico se forma cuando la placa Farallón subdujo por debajo de la placa del Caribe en el Cretácico superior. Hoy en día el arco está representado por una serie de complejos ígneos que se extienden desde el sur de Costa Rica hasta el este de Panamá. A pesar de que estas rocas del basamento y las rocas sedimentarias depositadas en la parte superior están muy deformados en Costa Rica, las que se encuentran en la península de Azuero y el centro de Panamá no presentan deformación.
Mediante el estudio de los registros de la erosión en las formaciones Tonosí y Gatuncillo del Eoceno, espero proporcionar información adicional para validar o invalidar los modelos tectónicos propuestos anteriormente para la región. La información tectono-térmica de la roca madre expuesta anteriormente se retiene en la cuenca sedimentaria adyacente a la montaña. Los análisis de isótopos de U-Pb y Lu-Hf en zircones detríticos y la proporción (U-Th)/ He en apatitas detríticas pueden revelar la fuente en donde se produjeron estos sedimentos, los eventos de enfriamiento que trajeron estas rocas ígneas a la superficie y el momento del cierre de la vía marítima centroamericana.