Claudia Grant | PCP PIRE Staff
Jetlag was rough, but overshadowed by enthusiasm. On Wednesday December 4th, 2013 PCP PIRE welcomed cohort 2 from PCPPIREteach to Gainesville. Teachers from California and Florida met for a 4 day wrap-up session focused on professional development. We had a full agenda prepared for them including touring the Museum collections and exhibits and a trip to Thomas Farm. Although we were not able to see everything the museum and Thomas Farm have to offer, we provided a comprehensive agenda trying to incorporate those activities that would translate into the teachers' classrooms.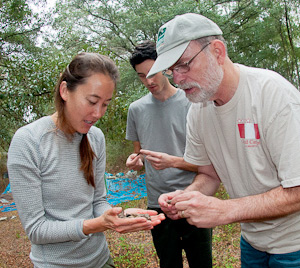 Each morning, we started with a tour of our wet collections — Herpetology and Ichthyology — where teachers got an up-close view of how biology specimens are preserved in alcohol and a clear understanding of why Museum collections are crucial to scientific research and conservation efforts. They were also introduced to the Genetics Resources Repository where museum scientists store DNA before it touches alcohol. The visit to Invertebrate Paleontology included an informal seminar lead by Dr. Austin Hendy, where teachers learned the methods for measuring and collecting data on invertebrate fossils. The purpose of this activity is to provide middle and high school students the opportunity to collaborate with a scientist. Through Google forms, the students will provide data to Dr. Hendy on the fossils collected by the teachers while in Panama. According to Jill Madden, teacher leader on this project, real-life assignments keep students engaged and focused.
Jason Bourque, preparator in Vertebrate Paleontology, dedicated one morning to showing teachers how to make fossil casts and a fossil molds. Jason gave them all necessary information and material needed in order for teachers to replicate this activity in the classroom. Teacher leader Laura Beach will be in contact with Jason and his team for further support.
Listening to teachers' presentations was very informative and important. It provided us with constructive feedback on which were the most valuable activities we planned for them. Their presentations also reminded us how important professional development is for teachers, and how rewarding it can be. "My involvement in the PCPPIREteach program has made me feel that I am respected, valued and honored as an educator. My experience has taught me to consider what is possible instead of what is broken. I have for the first time in much too long found myself with a group of professionals who invite me to share my thoughts, to be listened to, and to deeply listen to others." – Jill Madden | Pajaro Valley Middle School | Science Educator
The trip to Thomas Farm was pure fossil joy. According to the teachers, experiencing one of the richest fossil sites in the Eastern U.S. and participating in activities lead by scientists Bruce MacFadden, Jonathan Bloch and Aaron Wood in addition to graduate students who shared their knowledge and experiences on why they got into science was one of the most valuable experiences provided by PCPPIREteach. We need more scientists to collaborate with our students and we need young scientists (graduate students) to share their experiences with younger audiences, teachers said. "I was struck by the variation that exists when someone is called a 'scientist.' I don't think students have a firm grasp of all that can be included in the work of a scientist, and fear that they default to a schema that includes an old white frazzle-haired man in a lab coat. We didn't see that image anywhere but on the walls of offices. The scientists we met were passionate, interesting, driven, and for the most part, younger than the man in the picture. There are countless ways to participate as a scientist! One just needs to understand the process and find out where their interest and skill-set leads them." – Jason Tovani | Santa Cruz County Office of Education Curriculum & Instruction.
PCPPIREteach witnessed the excitement Santa Cruz students expressed when PhD student Catalina Pimiento visited them. We have also heard what teachers have said regarding doing science with scientists. These are two important reactions and PCPPIREteach will be working on providing more those connections.
---
Por Claudia Grant | PCP PIRE Staff
El Jetlag fue duro pero eclipsado por el entusiasmo. El miércoles 4 de diciembre del 2013, el PCP PIRE le dio la bienvenida a la cohorte 2 de PCPPIREteach en Gainesville. Los maestros de California y Florida se reunieron para una sesión de recapitulación de cuatro días centrados en el desarrollo profesional. Teníamos una agenda completa preparada para ellos que incluía un recorrido por las colecciones y exposiciones del museo y un viaje a Thomas Farm. Aunque no pudimos ver todo lo que el museo y Thomas Farm tenían para ofrecer, les otorgamos una agenda integral tratando de incorporar las actividades que mejor se traducirían en las aulas de los profesores.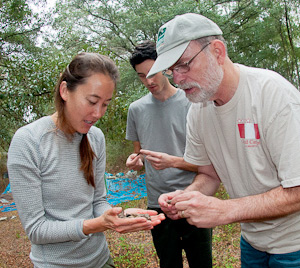 Cada mañana, empezamos con una visita a nuestras colecciones mojadas – Herpetología e Ictiología – donde los maestros recibieron una vista cercana de cómo se conservan las muestras biológicas en alcohol y una clara comprensión de que las colecciones de los museos son cruciales para los esfuerzos de investigación y conservación científica. También se les presentó el Repositorio de Recursos Genéticos, donde científicos del museo almacenan ADN antes de que toque el alcohol. La visita por Paleontología de Invertebrados incluyó un seminario informal dirigido por el Dr. Austin Hendy, donde los maestros aprendieron los métodos de medición y colexión de datos sobre los fósiles de invertebrados . El propósito de esta actividad es proporcionar a los estudiantes de secundaria y preparatoria la oportunidad de colaborar con un científico. A través de formularios de Google, los estudiantes proporcionarán datos al Dr. Hendy sobre los fósiles colectados por los profesores, mientras estuvieron en Panamá. Según Jill Madden, maestra líder en este proyecto, las tareas de la vida real mantienen a los estudiantes comprometidos y enfocados.
Jason Bourque, preparador de Paleontología de Vertebrados, dedicó una mañana a mostrar a los profesores cómo hacer moldes de fósiles. Jason les dio toda la información y material necesario para que los maestros pudieran replicar esta actividad en el aula de ser necesario. Laura Beach se pondrá en contacto con Jason y su equipo para obtener más asistencia.
Escuchar las presentaciones de los profesores fue muy informativo y muy importante para nosotros. Se nos proporcionó retroalimentación constructiva sobre cuáles eran las actividades más valiosas que habíamos planeado para los maestros. Sus presentaciones también nos recordaron lo importante que es el desarrollo profesional de los maestros y lo gratificante que puede ser. "Mi participación en el programa PCPPIREteach me ha hecho sentir que soy respetado, valorado y honrado como educador . Mi experiencia me ha enseñado a considerar lo que es posible en lugar de lo que está roto. Por primera vez en demasiado tiempo me encontré con un grupo de profesionales que me invitan a compartir mis pensamientos, para ser escuchados y para escuchar profundamente a los demás" — Jill Madden | Pajaro Valley Middle School | Science Educator
El viaje a Thomas Farm era alegría fósil pura. Según los maestros, tener la experiencia en uno de los yacimiento fósiles más ricos de los EE.UU y participar en actividades dirigidas por los científicos Bruce MacFadden, Jonathan Bloch y Aaron Wood, además de los estudiantes de postgrado que compartieron sus conocimientos y experiencias acerca de por qué escogieron la ciencia, fue una de las experiencias más valiosas del PCPPIREteach. Los maestros mencionaron la necesidad de colaborar con más científicos para interactuar con nuestros estudiantes y de científicos jóvenes (estudiantes de posgrado) para compartir sus experiencias con el público más joven. "Me llamó la atención la variación que se produce cuando una persona se llama un 'científico.' No creo que los estudiantes tienen una sólida comprensión de todo lo que se puede incluir en el trabajo de un científico, y el miedo que por defecto a un esquema que incluye un hombre mayor pelo blanco en una bata de laboratorio. No vimos esa imagen en cualquier lugar, excepto en las paredes de las oficinas. Los científicos que conocimos eran apasionados, interesantes, comprometidos, y en su mayor parte, más jóvenes que el hombre de la foto. Hay innumerables maneras de participar como un científico! Uno sólo tiene que entender el proceso y encontrar donde su interés y su conjunto de habilidades los lleva." — Jason Tovani | Santa Cruz County Office of Education Curriculum & Instruction.
PCPPIREteach fué testigo de la emoción que los estudiantes de Santa Cruz expresaron cuando la candidata de doctorado Catalina Pimiento los visitó. También hemos escuchado lo que los profesores han dicho con respecto a hacer ciencia con los científicos. Se trata de dos reacciones importantes y PCPPIREteach estará trabajando para proporcionar más de esas conexiones.