By Aaron Wood, PhD. | PCP-PIRE Post-Doctoral Associate and Intern Supervisor
During our work in Panama, PCP-PIRE interns and I have the privilege of interacting with and learning from the outstanding group of scientists, students and volunteers from around the world at the Smithsonian Tropical Research Institute (STRI). Such educational opportunities at STRI go beyond the academic facets of PCP-PIRE in that we gain a new perspective on various cultures, add to our competency in foreign languages (Spanish and more!) and learn about the relationships and partnerships among nations. Beginning last semester, the interns and I had the honor to work alongside a distinguished and delightful STRI volunteer, Terry Farrar, wife of the US Ambassador to Panama—Jonathan Farrar—and member of the Panama Diplomatic Association—a non-profit organization supporting diplomatic missions related to social assistance in Panama.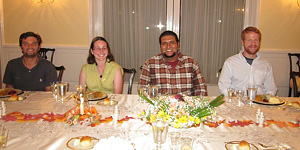 Once a week, Terry travels with the PCP-PIRE interns and me to recent excavations along the Panama Canal, salvaging and conserving the fossil resources of Panama, with each of us gaining something important from working together. Terry, who developed her enthusiasm for paleontology during a dinosaur dig in Montana, is now part of the excitement of discovering the ancient biodiversity of the New World Tropics. On a weekly basis, Terry learns about and enthusiastically contributes to our knowledge of the geologic history of Panama. The interns and I not only get a much needed helping hand during field work, we also benefited from Terry's participation by learning from her extensive experience living and working in Latin America. The impromptu Spanish lessons conducted by Terry while excavating fossils are tremendously helpful, too!
The international experiences afforded by involvement with the PCP-PIRE internship program are truly unique. Working with volunteers is rewarding, but the opportunity to learn more about Panama and Latin America through the eyes of a diplomat, like Terry, is an exceptional experience. The interns and I are also very thankful for the opportunity to join Terry, Ambassador Farrar, and their family during the Thanksgiving holiday at their beautiful home in Panama City. Being able to share the traditional turkey dinner and football game so far away from home meant a lot to us. Development of such personal and professional relationships in the context of scientific inquiry is an important component of the PCP-PIRE internship program, and I look forward to what the new year brings for the new interns in 2013.
---
Aaaron Wood, PhD | Asociado Postdoctoral del PCP PIRE y supervisor de pasantes
Durante nuestro trabajo en Panamá, los pasantes del PCP-PIRE y yo hemos tenido el privilegio de interactuar y aprender del destacado grupo de científicos, estudiantes y voluntarios de todo el mundo en el Instituto Smithsonian de Investigaciones Tropicales (STRI). Tales oportunidades educativas en STRI van más allá de los aspectos académicos del PCP-PIRE. La nueva perspectiva que obtenemos de las diversas culturas, suman a nuestra competencia en lenguas extranjeras (español y otros) y aprendemos sobre las relaciones y colaboraciones entre las naciones. Desde el semestre pasado, los pasantes y yo hemos tenido el honor de trabajar junto a una distinguida y encantadora voluntaria de STRI, Terry Farrar, esposa del embajador de EE.UU. en Panamá, Jonathan Farrar, y miembro de la Asociación de Diplomáticos de Panamá, una organización sin fines de lucro que apoya misiones diplomáticas relacionadas con la asistencia social en el país.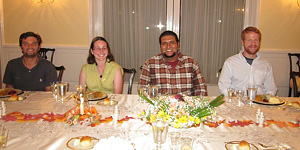 Una vez por semana, los pasantes del PCP-PIRE y yo vamos con Terry a las recientes excavaciones a lo largo del Canal, para colectar y conservar los recursos fósiles de Panamá. Cada uno de nosotros ha ganado algo importante a partir del trabajo conjunto. Terry, quien desarrolló su entusiasmo por la paleontología durante una excavación de dinosaurios en Montana, es participe ahora de la emoción de descubrir la biodiversidad ancestral de los trópicos del Nuevo Mundo. Semanalmente, Terry aprende y contribuye con entusiasmo a nuestro conocimiento de la historia geológica de Panamá. Los pasantes y yo no sólo obtenemos una ayuda muy necesaria durante el trabajo de campo, sino que a través de la participación de Terry, aprendemos de su gran experiencia de vida y trabajo en América Latina. Las lecciones improvisadas de español a cargo de Terry mientras excavamos fósiles son tremendamente útiles, también.
Las experiencias internacionales que ofrece la participación en el programa de pasantías PCP-PIRE son verdaderamente únicas. El trabajo con los voluntarios es gratificante, pero la oportunidad de aprender más acerca de Panamá y América Latina a través de los ojos de un diplomático, como Terry, es una experiencia excepcional. Los pasantes y yo estamos muy agradecidos por la oportunidad de unirnos a Terry, el embajador Farrar y su familia durante el día de Acción de Gracias en su hermosa casa en ciudad de Panamá. Poder compartir la tradicional cena de pavo y el partido de fútbol americano tan lejos de casa significó mucho para nosotros. El desarrollo de este tipo de relaciones personales y profesionales en el contexto de la investigación científica es un componente importante del programa de pasantías PCP-PIRE, y espero con interés lo que el nuevo año traerá para los nuevos pasantes en el 2013.