By Luz Helena Oviedo | PCP PIRE Graduate Student
Medellín was selected as the most innovative city in the world according to the Urban Land Institute and the Wall Street Journal (www.online.wsj.com/ad/cityoftheyear). Parque Explora is proof of the progress and potential that account for this nomination. This science center located in the northern area of Medellín has way more to offer than exhibit halls. It has a good number of programs aimed to popularize science among the general public such as Ciencia en la Escuela (Science in School) and Maestros Amigos de Explora (Teachers Friends with Explora). Over the course of three days PCP PIRE members brought paleontology to these wonderful programs. This visit—the first PCP PIRE's education and outreach event in Colombia—was held in the context of the Darwin traveling exhibit now in Parque Explora.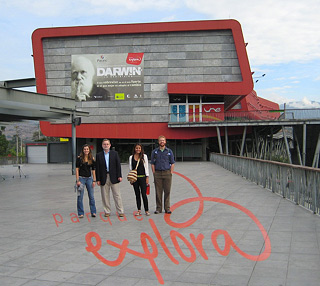 One of our first activities was to visit two schools in the city. Stories about fossils and paleontologists captured the attention of about 300 students in schools San Ignacio de Loyola and Yermo y Parres for an entire hour. The visit was part of the program Los científicos vuelven a la escuela (Scientists go back to school) where scientists from different disciplines share their experiences with students. After the talks, students showed their enthusiasm by asking countless questions and taking photographs with researchers.
In a more academic environment, PCP PIRE members gave talks to Explorers and STEM students. Explorers are a group of college students that work at the science center as mediators or facilitators for visitors. The talks were divided in four topics covering field work and research in Colombia and Panama, Paleobotany, Fossil horse evolution and specifics related to the Darwin exhibit such as brachiopods, ammonites, macrauchenia, glyptodont and toxodont.
One of the most popular events in Parque Explora is Ciencia en Bicicleta (Biking science)—a public talk that takes place every Thursday. Attendees usually start making a line an hour before to get a seat and this was also the case for Bruce MacFadden's talk about the Great American Interchange. The public including children who were very animated and asked questions during and after the talk. Watch the talk here: www.ustream.tv/recorded/29288514.
Education and Communication had also a place in the agenda. About 30 teachers from the program Maestros Amigos de Explora (Teachers Friends with Explora) participated in a workshop where they learned about the work of a paleontologist—a science relatively unfamiliar to them. Researchers working on Medellín's biodiversity policy participated in a talk about communication and learned some tips on how to reach non-scientific audiences.
Our time in Medellín was a great opportunity to share PCP PIRE's research with students and the general public and it was a chance for U.S researchers to strength their Spanish skills and development in international contexts. But most of all it was a chance for inspiration. Future paleontologists got a dose of fuel to spark their passion and we better understood how much there is still to do to take science for a bike ride.
We would like to thank Parque Explora for being wonderful hosts. Special thanks go to Isabel Acero, Luis Kamil Buitrago, Juan Felipe Orozco, Pilar Aubad and John Meyer Quintero.
PCP PIRE crew:
Aaron Wood, Post-Doc
Bruce MacFadden, Principal Investigator
Camila Martínez, STRI
Luz Helena Oviedo, Graduate Student
---
Por Luz Helena Oviedo-Estudiante de maestría PCP PIRE
Medellín fue elegida como la ciudad más innovadora del mundo, según el Urban Land Institute y el Wall Street Journal (www.online.wsj.com/ad/cityoftheyear). El Parque Explora es prueba de los avances y el potencial que dan cuenta de esta nominación. Este centro de ciencia ubicado en la zona norte de Medellín tiene mucho más que ofrecer que salas de exhibición. El parque cuenta con un buen número de programas dirigidos a divulgar la ciencia al público en general, tales como Ciencia en la Escuela y Maestros Amigos de Explora. Durante tres días los miembros del PCP PIRE llevaron la paleontología a estos maravillosos programas. Esta visita, el primer evento de educación y divulgación del PCP PIRE en Colombia, se llevó a cabo en el contexto de la exhibición Darwin, ahora en el Parque Explora.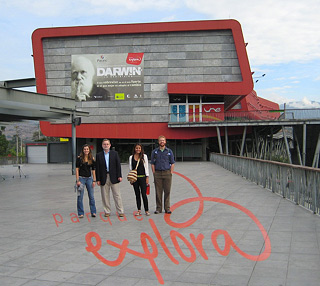 Una de nuestras primeras actividades fue visitar las escuelas San Ignacio de Loyola, y Yermo y Parres donde las historias de fósiles y paleontólogos captaron la atención de cerca de 300 estudiantes durante una hora entera. La visita se realizó como parte del programa Los Científicos Vuelven a la Escuela, en el cual investigadores de diferentes disciplinas comparten sus experiencias con los estudiantes. Después de las conversaciones, los estudiantes mostraron su entusiasmo haciendo innumerables preguntas y tomándose fotografías con los investigadores.
En un ambiente más académico, los miembros del PCP PIRE dieron charlas a los Exploradores y estudiantes de ciencia. Los Exploradores son un grupo de estudiantes universitarios que trabajan en el parque como mediadores o facilitadores con los visitantes. Las charlas estuvieron divididas en cuatro temas así: el trabajo de campo y la investigación en Colombia y Panamá, Paleobotánica, la evolución del caballo y especificidades referentes a la exposición Darwin tales como braquiópodos, amonitas, macrauquenias, gliptodontes y toxodontes.
Uno de los eventos más populares de Parque Explora es la Ciencia en Bicicleta, una charla pública que tiene lugar todos los jueves. Los asistentes acostumbran a hacer fila desde una hora antes para conseguir puesto. El día de la charla de Bruce MacFadden sobre el Gran Intercambio Americano no fue la excepción. Los niños en el público y demás asistentes estuvieron muy animados e hicieron preguntas durante y después de la charla. Vea la charla acá: www.ustream.tv/recorded/29288514.
La educación y comunicación también tuvieron un lugar en la agenda. Cerca de 30 profesores del programa Maestros Amigos de Explora participaron en un taller donde aprendieron sobre el trabajo de los paleontólogos, un tema relativamente desconocido para ellos. Los investigadores que trabajan en la política de biodiversidad de Medellín participaron en una charla sobre comunicación y aprendieron algunos consejos sobre cómo llegar al público no científico.
Nuestro tiempo en Medellín fue una gran oportunidad para compartir las investigaciones del PCP PIRE con los estudiantes y el público en general, y fue una ocasión para que los investigadores de origen estadounidense fortalecieran su español y desenvolvimiento en contextos internacionales. Pero sobre todo fue una oportunidad para la inspiración. Los futuros paleontólogos recibieron una dosis de combustible para avivar su pasión y nosotros entendimos mejor lo mucho que queda por hacer para llevar la ciencia a dar un paseo en bicicleta.
Queremos agradecer al Parque Explora, por ser unos excelentes anfitriones. Un agradecimiento especial a Isabel Acero, Luis Kamil Buitrago, Juan Felipe Orozco, Pilar Aubad y John Meyer Quintero.
Equipo del PCP PIRE:
Aaron Wood, Post-Doc
Bruce MacFadden, Investigador Principal
Camila Martínez, STRI
Luz Helena Oviedo, Estudiante de Maestría