By Oris Rodriguez
I am a botanist by training, but first became involved with paleontology in 2006, through a master's degree at the Universidad Nacional Autonoma de Mexico (UNAM). My Master's research focused on Eocene fossil leaves from the north-east part of Mexico. When I returned to Panama in 2009, I joined Dr. Carlos Jaramillo's group at STRI on a short-term fellowship. This project involved the identification of fossil wood of Annonaceae from the Cucaracha Formation and the description of several morphotypes of fossil leaves in the underlying Culebra Formation. Dr. Jaramillo encouraged me to develop this work into a potential PhD project and in 2010 I was awarded a doctoral scholarship by the Secretaria Nacional de Ciencia y Tecnologia (SENACYT). My training in paleobotany has been tremendously enriched during the year and a half I spent in the Center for Tropical Paleoecology and Archaeology at STRI.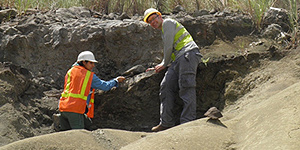 I am currently a doctoral student at Royal Holloway, University of London, UK under the supervision of Dr. Howard Falcon-Lang, an expert in fossil wood anatomy and paleoclimatology. The project I am developing focuses on the Miocene woods from the Cucaracha Formation in the Gaillard Cut, Panama Canal. My work is based on new collections and deals with the taxonomy, paleoclimatology and paleoecology of these ancient trees. The latter angle is especially exciting because the fossil trees were buried and preserved by hot pyroclastic flows when a nearby volcano erupted.
I am delighted to join PCP PIRE as a new member and it will be a great pleasure to participate in future activities taking place in the Canal, where I can offer assistance for new students. I am convinced that this experience will highly enrich my doctoral project.
---
Por Oris Rodríguez
Soy botánica de formación y me involucré con la paleontología por primera vez en el 2006 gracias a una maestría en la Universidad Nacional Autónoma de México (UNAM). En mi proyecto trabajé con hojas fósiles del Eoceno del noreste de México. Al regresar a Panamá en el 2009, ingresé al grupo del Dr. Carlos Jaramillo en STRI mediante una beca a corto plazo. Este proyecto tenía que ver con la identificación de maderas fósiles de Annonaceae de la Formación Cucaracha y con la descripción de varios morfotipos de hojas fósiles de la subyacente Formación Culebra. El Dr. Jaramillo me motivó a convertir este trabajo en un potencial proyecto de doctorado y en el 2010 fui favorecida por las becas doctorales de la Secretaria Nacional de Ciencia y Tecnología (SENACYT). Mi entrenamiento en paleobotánica fue enriquecido inmensamente durante el año y medio en el Centro de Paleoecología y Arqueología Tropical en STRI.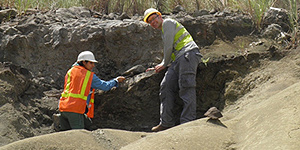 Actualmente soy estudiante de doctorado en la Universidad de Londres Royal Holloway, en el Reino Unido, bajo la supervisión del Dr. Howard Falcon-Lang, experto en anatomía de maderas fósiles y paleoclimatología. El proyecto que estoy desarrollando se enfoca en maderas del Mioceno de la Formación Cucaracha en el corte Gaillard, que hacen parte de las nuevas colecciones del Canal de Panamá. Mi trabajo tiene que ver con la taxonomía, paleoclimatología y paleoecología de estos antiguos árboles. Este último aspecto es especialmente interesante debido a que los arboles fósiles fueron enterrados y preservados por flujos piroclásticos provenientes de la erupción de un volcán cercano.
Estoy complacida de ser una nueva integrante del PCP PIRE y será un gran placer participar en futuras actividades que tengan lugar en el Canal, donde puedo ser de ayuda para nuevos estudiantes. Estoy convencida de que esta experiencia enriquecerá enormemente mi proyecto de doctorado.