By Andy Kilmer
Utahna Denetclaw, a Master's student in the College of Education at the University of New Mexico, is a new member of the PCP PIRE. Utahna has been involved in research at the New Mexico Museum of Natural History (NMMNH) for two years. Her experience began as a volunteer for Gary Morgan, a principal investigator of the PCP PIRE and a Curator of Paleontology at NMMNH. As she began work with Gary, Utahna caught the eye of Dr. Thomas Williamson, another paleontology curator who agreed to mentor her.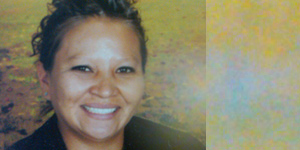 "[Dr. Williamson] invited me to work for him on mammals from the Paleocene. Shortly thereafter, I began my field experiences in the San Juan Basin [in the Four Corners Area of the US] collecting matrix, screen washing, [and] picking and sorting microfossils."
Utahna is currently working with Dr. Williamson to develop classroom exercises for school groups and teachers visiting NMMNH. Ultimately, Utahna aims to incorporate her paleontology experience with her studies in education. "My primary focus is to integrate the sciences with hands on experiences inside the classroom by collaborating with researchers and scientists."
Formally hired by Gary Morgan in January of this year, Utahna's work focuses on the curation of Miocene fossils at the natural history museum. In the process, Utahna is learning to identify the organisms she is working with and about the environments in which they lived. Utahna visited Panama in March where she toured fossil localities and quarried and screenwashed for fossils at Hodges Hill, Las Cascadas Formation and the Centanario Bridge.
---
Por Andy Kilmer
Utahna Denetclaw, estudiante de maestría de la facultad de Educación de la Universidad de Nuevo México es una nueva integrante del PCP-PIRE. Ella ha estado involucrada en investigación con el Museo de Historia Natural de Nuevo México durante dos años. Su experiencia empezó como voluntaria con Gary Morgan, investigador principal del PCP-PIRE y curador de paleontología en el NMMNH. Cuando inició su trabajo con Gary, Utahna llamó la atención de Thomas Williamson PhD, otro curador de paleontología que accedió a ser su mentor.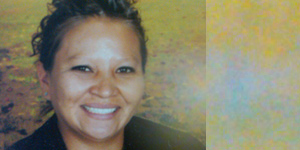 "[El doctor Williamson] me invito a trabajar con él en mamíferos del Paleoceno. Poco después, empecé mi trabajo de campo en la cuenca San Juan [en el área de las Cuatro Esquinas en Estados Unidos] colectando matriz, tamizando, seleccionando y clasificando microfósiles.
Utahna actualmente trabaja con el Dr. Williamson para desarrollar actividades de clase dirigidas a grupos de estudiantes y profesores visitantes del NMMNH. En última instancia, Utahna se propone incorporar su experiencia en paleontología con sus estudios en educación. "Mi enfoque principal es integrar las ciencias con experiencias prácticas en el salón de clase mediante la colaboración entre investigadores y científicos."
Contratada oficialmente por Gary Morgan en enero de este año, el trabajo de Utahna se concentra en la curación de fósiles del Mioceno en el museo de historia natural. Mientras trabaja, Utahna también aprende a identificar los organismos con los que trabaja, así como sobre los ambientes en los que vivieron. Utahna visitó Panamá en Marzo donde recorrió las localidades de fósiles, colectó y tamizó buscando fósiles en Hodges Hill, la formación Las Cascadas y el puente Centenario.