by Luz Helena Oviedo
It's always nice to meet science enthusiasts, and it is even better to talk with them about your research interests. A couple of weeks ago, I had the chance to visit the Fossil Club of Lee County in Fort Myers where a group of fossil lovers met to share their findings. Every month, they invite speakers who are primarily paleontologists to increase the members' paleontological knowledge. This time was a little bit different. I'm not a paleontologist and my presentation was about "Communication of Fossil Horse Evolution in US Museums."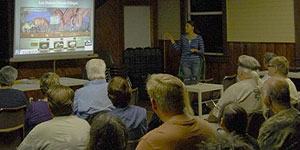 The research I conducted with Bruce MacFadden, Shari Ellis (PCP-PIRE members) and Grace Seymour (undergraduate student, Cornell University) was about how US museums depict horse evolution. We found that more than half of the museums communicate the outmoded concept of orthogenesis or linear evolution. This type of representation—which was widely used in the late 1800s and early 1900s-shows a linear sequence from ascendant to descendant with no side branches. These depictions support inaccurate perceptions of evolution in a country where acceptance of the theory is low compared to other countries.
Some people were stunned by the findings and, despite my initial concerns about the audience's expectations, the unusual topic of my talk was very well received. This was my first talk at a fossil club and I'm looking forward to giving a second one. This research was partially supported by the Ken Erickson Fund of the Fossil Club of Lee County and it was presented at this year's Vertebrate Paleontology Society Meeting in Las Vegas.
---
por Luz Helena Oviedo
Siempre es bueno conocer gente entusiasta por la ciencia, y es aún mucho mejor poder hablar con ellos sobre mis intereses de investigación. Hace unas semanas, tuve la oportunidad de visitar el Club de Fósiles del Condado Lee en Fort Myers, donde un grupo de amantes de los fósiles se reúne para compartir sus descubrimientos. Cada mes tienen invitados, principalmente paleontólogos, con el fin de incrementar el conocimiento paleontológico de los integrantes del club. Esta vez fue algo un poco diferente. No soy paleontóloga y mi presentación era sobre "Comunicación de la Evolución del Caballo en los Museos de Estados Unidos".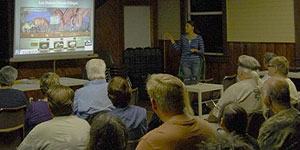 La investigación que realicé con Bruce MacFadden, Shari Ellis (integrantes del PCP-PIRE) y Grace Seymour (estudiante de pregrado en la Universidad de Cornell), fue sobre cómo los museos de Estados Unidos representan la evolución del caballo. Encontramos que más de la mitad de los museos comunican el concepto anticuado de ortogénesis o evolución lineal. Este tipo de representación muestra una secuencia linear de ancestro a descendiente sin ramificaciones, y fue ampliamente usada a finales de los años 1800's y a inicios de los años 1900's. Estas imágenes respaldan ideas sobre la evolución incorrectas, en un país donde la aceptación publica de esta teoría es muy baja comparada con otros países.
Algunas personas se sorprendieron bastante con los resultados, y a pesar de mi preocupación inicial sobre las expectativas de la audiencia, el tema poco común de mi charla fue muy bien recibido. Esta fue mi primera charla en un club de fósiles y tengo muchas ganas de repetir. Esta investigación fue realizada con apoyo parcial del Fondo Ken Erickson del Club de Fósiles del Condado Lee y fue presentada este año en la reunión de la Sociedad de Paleontología de Vertebrados en Las Vegas.