I ended last month doing a lot of fossil preparations and started the month of March in Panama. Having spent a rainy February in doors it was great to get out into the field and looking for fossils. They were early mornings and long days filled with lots of sun. Spending days out by the canal was a great experience. Having collected at other sites that had abundant specimens it was great to experience other sites with fewer and harder to find specimens. One site, newly opened, on the east side of the canal produced hundreds or new specimens of both shrimp claws and crab carapaces.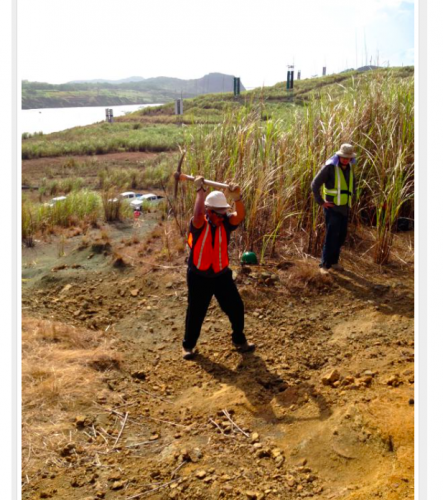 On the first day we went to several of the sites we could later spend more time at. The second site we went to is known as Las Cascadas. It was at this site on a previous trip that Dr. Aaron Wood found a rare fossil millipede. We spent about half of a day looking for any more but had no success in finding another. The rest of the week was spend at several other sites on both sides of the canal looking for crabs and other invertebrate fossils. While several of us spent time at other sites the vertebrate contingent made several great finds at the Las Cascadas site.
During some our free time got to go on a canopy crane tour where we saw a sloth, iguana and great views of both the old and new portions of Panama. We also went to El Bio Museo where we got to explore biologic and geologic history of Panama. The two best parts of the museum was the huge video room where three walls, celling and floor were giant projections screens with videos of scenes from Panama. The second was the model room where there were hundreds of model animals from the past and present Panama. We also got to eat out at several great restaurants like a classic Panamanian place, a stake house, burger place, and cute Italian eatery as well as explore Casco Viejo, the old city.
Since returning from Panama its been a lot less preparation of fossils and a lot more researching. I've been getting started on a paper on the single millipede specimen we have. The paper will hopefully be able to bring light to the fact that there were millipedes in central Panama during the late Oligocene and early Miocene. It will also tie in the millipede that was found in a cave in Florida. The actual preparation of the Panama has yet to start but once that is finished we are hoping to get several good pictures and possibly identifying it.
I have found that though millipedes are quite a common arthropod, roughly 12,000 known species they are extremely under studied with very little literature on them. Not only that but current researchers have re-identified several groups of millipedes after they found the original identifiers had misinterpreted what they had seen. This only helps to jumble the information thats out there making research more confusing. The information on millipedes isn't that only scrambled portion of my research. Spending time on the stratigraphy of where the millipede was found has been changing as well. Since this portion of the canal has been uncovered there have been more then five versions of what the stratigraphy could look like. Again, this has made trying to understand what is going on at the site even more difficult.
I'm hoping to start preparations of the specimen within the next week and also start writing up the paper and incorporating the Florida specimen.