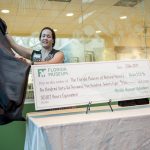 Last night we honored our volunteers for the countless hours of their time they graciously spend at the Florida Museum!
We totaled up all the hours they worked collectively and it saved the museum $666,528.96 in paid hours! That's a total of 30,187 hours spent in our exhibits or collections, and in the field.
We would not be the museum we are without our volunteers. Thank you all for what you do for us! If you are interested in volunteering at the Museum, please visit our volunteer info page for more information.