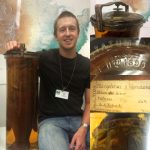 "What is your favorite specimen in the Museum?"
Curatorial Assistant David Boyd didn't think long before spinning handles on the crushers to pull out the Largemouth Bass.
"It's not even the bass. I guess I'm a museum nerd that I love the jar that he's in," said David.
The specimen jar is huge and stamped with 1895, while the specimen tag itself says 1932. I'd like to think we're all museum nerds around here!
This specimen was featured in our 100th anniversary exhibit in 2017. You can read about it on the exhibit site:
Largemouth Bass