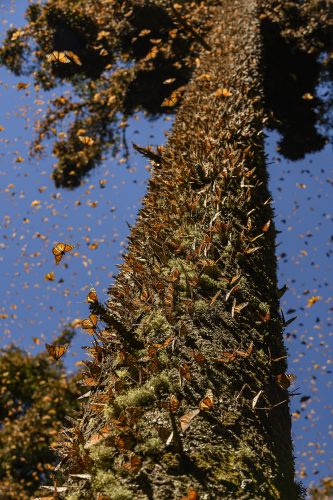 Our photographer, Kristen Grace, traveled with a Museum group to experience the Monarch butterflies' overwintering grounds in the mountains of southern Mexico, and came back with this award-winning photo!
The Florida Museum and Holbrook Travel partner to take guests on trips with scientists to experience our complex and amazing natural world. Visiting places like Costa Rica, Tanzania, and the Galapagos immerses visitors in the wonder of our Earth's varied environments and biodiversity.
In February 2019, Kristen visited el Rosario Monarch Sanctuary in Ocampo, Mexico, where millions of Monarch butterflies, Danaus plexippus, overwinter in high-altitude fir forests. The trip was led by Jaret Daniels, Director of the McGuire Center for Lepidoptera and Biodiversity here at the Florida Museum.
Although she took thousands of photos and copious amounts of video footage, she narrowed down her favorites and submitted this one photo to the UPAA. It was voted 'Best in Show' in the March 2019 Monthly Image Competition, and then placed second in 'Science and Research' at the organization's Annual Print Competition during their summer symposium!