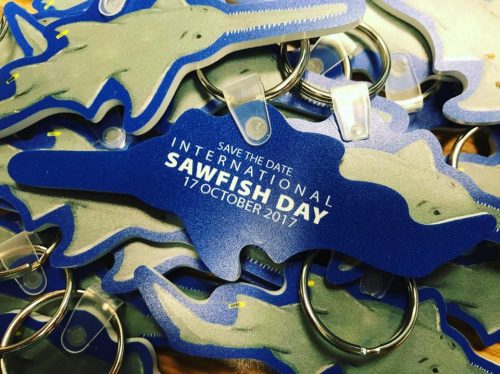 In an effort to connect with the public about the quickly declining populations of sawfish worldwide, International Sawfish Day was created in partnership with the Sawfish Conservation Society and the European and American Associations of Zoos and Aquariums.
Here at the Florida Museum, we host the International Sawfish Encounter Database (ISED), a project aimed at gathering data about, and evaluating populations of smalltooth sawfish. Our focus is on conservation and recovery of this critically endangered species.
International Sawfish Day Outreach
Our sawfish team hit the road for an outreach event at Ripley's Aquarium of Myrtle Beach. Lindsay French, sawfish aficionado and shark team member, reported back that the event was a lot of fun for the team and the visitors:
"George (Burgess) and I traveled to the Ripley's Aquarium of Myrtle Beach in order to help host the event and spread the good word on sawfish. The day was filled with outreach events including a shark/sawfish feeding by the aquarium staff, a sawfish presentation by George, and educational activities and discussions with the public from George and me.
"We then traveled to the local marina to pass out information on the International Sawfish Encounter Database and the importance in reporting your sawfish catches of this endangered species."
Online and Info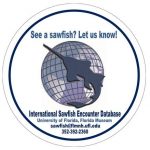 Here at the Museum we participated online with a morning tweet-a-thon, sharing some general sawfish info and good-to-know info:
Mark October 17th on your calendar for next year's International Sawfish Day! And follow us on social media to keep up to date: