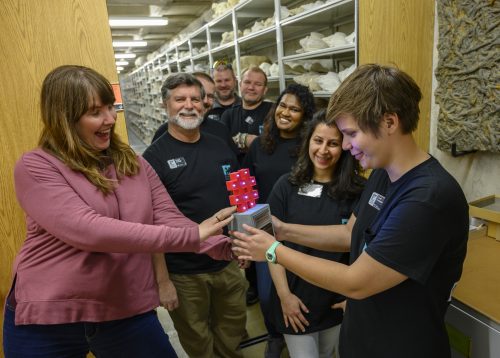 Today Chelsea Collison awarded the Hashtag Award to our invertebrate paleontology collection team for winning our staff #MuseumSelfieDay competition on January 16th. Museum Selfie Day, usually held on the third Wednesday of January, is a fantastic way to encourage visitors to post about their visits to museums, and it's also an opportunity for museum folks to show off their work and their workplace.
For 2018, the Hashtag Award was held by our herpetology collection, and it was ceremoniously passed on to the 2019 winners this week. Like the Stanley Cup, each year's winners are engraved on the award base and that team displays the award in their work space. And yes, the hashtag does light up!
Our invertebrate paleontology team (matching t-shirts!) is led by Roger Portell and Michal Kowalewski, but they credit collection manager Carmi Thompson with encouraging everyone to come together for this selfie. Staff, students, and volunteers in this collection work together closely and enjoy joking with each other–especially when being hustled around for group photos.
The Florida Museum staff really turned out this year for Museum Selfie Day! More than 60 individuals, collection teams, labs, and groups posted selfies on the day to show off their work and their love of the Museum.
Browse More 2019 Selfies