The mission
Create a low-production thank-you video for the end of 2019 to show our supporters that we appreciate them. Not overly produced. Short. Genuine. Feel-good and fun.
Got it.
The equipment
Sorry, what equipment? My phone was the first option. This was highly recommended by university fundraisers. But I was concerned about audio quality.
I popped the keyboard off my laptop, a Surface Pro, and made Sarah talk at me from across the room while I recorded. For what it was, the quality was pretty good. We tested an additional microphone but it didn't make anything better.
I slunk down to paleontology and asked Rachel to be a guinea pig. She patiently picked up and put down a large fossil a few dozen times while I cursed at my shaking hands and fat fingers. Transferring the test recording to my computer with real speakers and a big screen showed again—not bad quality. Medium quality. Just what we were looking for.
Savaged by a butterfly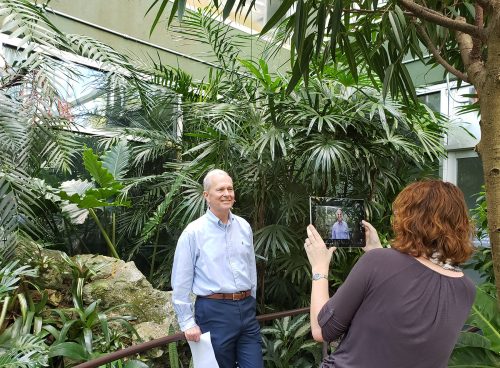 Clearly Doug Jones was the crowning jewel and needed to intro the short video. He's so patient and let us pose him around the Butterfly Rainforest, and he repeated his monologue in a heartfelt and genuine tone each and every time.
It was early in the day and most of the butterflies were tucked up under leaves still. We tried to find some that were up and about with little luck. We had him stand near sleeping butterflies instead.
Doug gently tapped a branch with a nearby butterfly a few times while we jokingly debated how to convince it to sit on his shoulder, but ultimately we decided to leave sleeping butterflies lie. That butterfly had other plans. Right in the middle of a take, it sprang into action and viciously (for a butterfly) savaged Doug before speeding off.
Doug is such a pro, he barely paused. He just made the face of the director of a museum that isn't surprised by a single thing anymore, and kept talking.
And to this day, that is one of my favorite single pieces of video ever filmed at the Museum. Which is saying a LOT.
The victims
Next was my mission to find a sampling of people across the museum who were available on short notice, and also willing to be videoed.
After a lot of negotiation, I had some victims lined up. For the rest, ambush. It's amazing what people are willing to do if you show up with a hopeful face and a promise to go away quickly.
Some of our Museum team are very experienced at being on camera. Some, not so much. I'm not going to out the people who required the most time to get two words filmed (but I'm definitely looking sideways at herpetology and sharks right now).
Everybody was such good sports about it though. Mad props for rolling with the weird requests I've thrown at them over the years!
The process
I'm still learning how to use video editing software. Not a big deal. There are thousands of video tutorials on how to do things. I think I got there in the end. There's even music. I even turned the music down on the parts where people talked. Easy peasy!
Will I do a video project again? Yup. Am I glad this is done? Yup. Do I want anyone to say "thank you" to me again? Not for at least another year.
The video