From this page you can explore the galleries by choosing a temporal period and clicking on one of the types. In general, the order of the types under each period follows Bullen's Guide to the Identification of Florida Projectile Points (1975).
There are 10 temporal periods outlined below from Paleoindian to Contact Period, using Bullen (1975) and Milanich's (1994) research (See Selected References and Links).
Download the Bullen Projectile Point Type Collection Sorted by Cultural Period to see a comparison between temporal period and date ranges as projected by Bullen and Milanich for the types in this collection. These are not absolute as many points overlap multiple periods.
Highlighted counties in the maps below represent a compilation of all recorded locations for the point types from the various archaeological culture periods used by Bullen to develop the Projectile Point Type Collection. Where periods are split between "Early", "Middle", and/or "Late", only one map is used to represent all divisions of that period.
Woodland (Post-Archaic Regional; Deptford/Swift Creek/St. Johns)
500 BCE to 200 CE
Florida Copena
Florida Adena
Jackson
Taylor
Sarasota
Ocala
Gadsden
Westo
Mississippian (Post-Archaic Regional; Deptford/Weeden Island/St. Johns)
200 CE to 1250 CE
Broward
Bradford
Duval Subtype 1
Duval Subtype 2
Duval Subtype 3
Leon
O'Leno
Columbia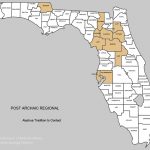 Alachua Tradition to Contact Period (Post-Archaic Regional; Ft. Walton/Safety Harbor/St. Johns)
1250 CE to 1600 CE
Tampa
Ichetucknee
Pinellas