Free admission
Encourage your child's curiosity and wonder in the ever-changing hands-on Discovery Room! Preserved specimens from Museum collections and a variety of science resources provide many opportunities for families to learn about the world together.
Children must be accompanied by an adult at all times. Please limit group sizes to five children per adult. Adults are responsible for ensuring the children in their care explore the Discovery Room in a safe and respectful manner. We appreciate your help in keeping the exhibit tidy for the next visitors!
Discovery Drawers and Bins
Open the drawers to see objects from our collections including manatee bones, eggs, shells and butterflies. For hands-on exploration, check out our bins.
Wind Tunnel
Explore how different objects move in the wind! Test out your ideas about what determines whether an object will move in the wind or not.
Animal Mounts
Get an up close look at Florida birds and mammals displayed in our object cases.
Forest Habitat
Designed with our younger visitors in mind, this exhibit element has a gentle slope and short stairs for early walkers.
Reading Area
Settle into our comfortable chairs and enjoy our quality collection of picture books and reference materials with your curious learner.
Building Corner
Explore balance, motion and gravity with our sets of blocks and gears.
During the first years of life, children build basic concepts about the physical and natural worlds that form the foundation for later science understanding.
Young children who talk about science with their families develop larger, more sophisticated vocabularies. This, in turn, helps with reading comprehension later in elementary school and beyond.
Encouraging children to pursue their early interest in science can promote positive attitudes toward learning and dispositions such as curiosity, persistence in solving problems, and motivation to learn more.
Gifts
Anonymous
Children's Museum of the South
Charles H. Denny III Charitable Trust
Felburn Foundation
Museum Associates Board
Plum Creek Foundation
Robert O. Powell, Sr. and Ann S. Powell
Joseph M. Rush
F.A.O. Schwarz Foundation
Patti Shively Foundation, Inc.
Frances C. & William P. Smallwood Foundation
Beverly and Jon Thompson
B.J. and Eve Wilder Family Foundation, Inc.
Endowments
Francis and Miranda Childress Foundation, Inc.
Richard B. and Catherine A. Crandall
Charles H. Denny III Charitable Trust
Felburn Foundation
Leonard T. Furlow, Jr. and Libby Furlow
Help build our spectacular new Discovery Zone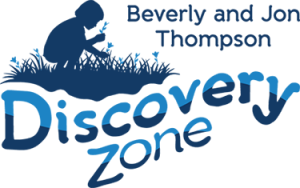 Because of the tremendous popularity of our temporary Discovery Room, the Museum is developing a
permanent exhibit designed for families with children 8 and under! Opening July 17, 2017, the new Beverly and Jon Thompson Discovery Zone will include an area for infants and toddlers, and opportunities to explore, observe, study, play and pretend for the whole family. A vast array of awe-inspiring objects combined with engaging interactive activities and media resources are sure to foster a sense of wonder about our world.
Your gift for the Discovery Zone supports the creation of this marvelous, free exhibit that is sure to be a favorite family destination.
Naming and sponsorship opportunities are available. Contact Marie Emmerson, Director of Development, at emmerson@ufl.edu for more information.
On behalf of our youngest visitors, thank you for your support!