The Florida Museum of Natural History received two awards at the Southeastern Museums Conference 2018 Annual Awards Luncheon held in Jackson, Mississippi, on Oct. 10.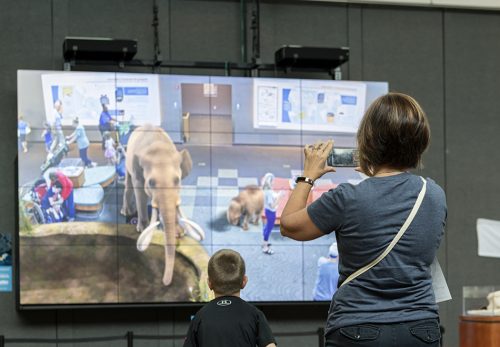 The "Discovery Zone," won bronze in the exhibitions over $1 million competition and "Mammoth Comes to Life" won silver in the digital marketing category of the technology competition.
"We're thrilled to win these awards, which are juried by peers from across the Southeast U.S.," said Darcie MacMahon, the Florida Museum's director of exhibits and public programs. "Ultimately these awards recognize the museum's efforts to engage and serve audiences in meaningful ways and to inspire people about the world around us. And that makes us happy."
Children can learn and engage in science-oriented interactives like a Cedar Key fishing boat and an archaeological excavation among other activity stations in the "Discovery Zone." The museum's newest permanent exhibit, which debuted in 2017, is free and open until 4:30 p.m. everyday.
"Mammoth Comes to Life" is an augmented reality experience located in the central Denny Gallery which allows guests to interact with a mammoth, her calf and a saber-tooth cat on a large screen as they enter the space. The augmented reality screen was installed in February.
"The augmented reality experience is another unique addition to the museum – it helps visitors understand more about mammoths and their world, but also engages them physically in a playful way and starts their museum experience with a smile," MacMahon said.
The SEMC is a nonprofit association of museums, museum staff, independent professionals and corporate partners focused on the Southeast U.S. It holds an annual professional conference and exhibit competition to recognize excellence and distribute awards in various categories. The exhibition competition honors exhibits that are well-designed, have educational value and treat objects with care and respect while the technology competition recognizes and rewards excellence in the use of technology.