Holbrook Travel & Expedition Travel present
Madagascar: Mantadia Reserves, Ranomafana National Park & Beyond
July 20 – August 5, 2015
Led by Dr. Thomas Emmel, Founding Director of the McGuire Center for Lepidoptera & Biodiversity
Enrollment deadline
April 16, 2015
Madagascar is a Land Like No Other
This island is an Eden-like garden of riches, filled with a diversity of life and scenery unequaled anywhere else on earth. Simply put, Madagascar is wild. Ecotourism is now in its infancy, but whole-heartedly embraced by the country as a means to support the local communities and preserve their unique wildlife.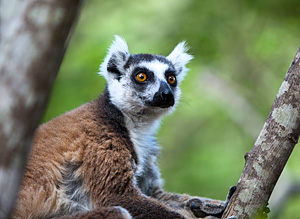 If Madagascar is a place you've always dreamed of visiting, there has never been a better time to take this spectacular adventure.
This trip is designed to experience all that is Madagascar. From the animals to the landscapes found throughout the country, this expedition is a must for anyone with a love for wildlife and a curiosity about the natural world. Participants will also have an opportunity to interact with local cultures and learn about their way of life.
This expedition features special visits to national parks and reserves in several distinct parts of the country. With diverse environments and a variety of wildlife from the lush cloud forests of Ranomafana to the spiny forests of Berenty, this is the most comprehensive Madagascar trip available!
We expect to encounter dozens of species of lemurs, and numerous chameleons, colorful frogs, orchids, and majestic Baobab trees.
$6,995 per person (double occupancy)
$1,200 single supplement
Includes: Accommodations (double occupancy), in-country transportation, meals and activities as listed in the itinerary.
Not included: Items of a personal nature, flights, gratuities, beverages.
---
The Florida Museum may photograph or video visitors for educational and promotional purposes. Attendance to a Florida Museum event constitutes the attendee's consent regarding the possibility of appearing in Museum marketing materials.